Even if your loved one suffers from the memory loss of Alzheimer's disease or dementia, there are numerous ways to evoke and preserve their memories of the past.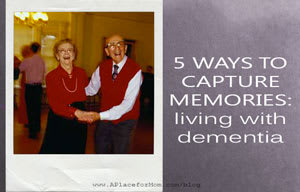 One of the most difficult situations for caregivers and family of someone with Alzheimer's occurs when a loved one begins to experience memory loss. While recent events may become confusing and blurry, the person with Alzheimer's may remember the past more vividly than the present. Family and friends are in a unique position to help their loved one preserve current memories and capture the past for posterity — helping to record an individual legacy that might otherwise be lost. Learn more about capturing these memories during this time.
How to Prompt Memories in Seniors with Alzheimer's
"Caregivers become the memory for a loved one who has Alzheimer's disease," says Glenn E. Smith, Ph.D., a neuropsychologist at the Mayo Clinic, in an article on the clinic's website. "By gathering memories, you can bring important events and experiences from your loved one's past into the present. You're the link to his or her life history." And the act of doing so is a powerful way to strengthen your family connection. In fact, the process of documenting a loved one's history can be comforting, enjoyable, and even therapeutic for the whole family.
Memories are often roused by old movies and music, stories, and photos — or even the simple act of a family get-together. Here's a quick list of different ways to evoke memories and draw out those stories from your loved one, even if he or she has severe memory impairment:
Show photos and mementoes: Pictures, newspaper clippings, letters, heirlooms, or greeting cards — all of these can help a loved one access memories of treasured people, places, and events.
Visit a hometown or a family reunion: Though traveling with seniors can be a challenge, simply being in a familiar setting can prompt recollections of the past. "Many old memories can be evoked by a visit to a person's hometown, either their original house or neighborhood, school or church," says the Alzheimer's Association of Northern California and Northern Nevada.
Play a favorite song: Both scientific studies and anecdotal evidence support the role of familiar music in mentally stabilizing people with Alzheimer's or other dementia — some even sing along or become more alert. In those whose memory loss is less profound, songs can help bring back the past.
Harness the power of taste and smell: We all know certain smells can bring back powerful, sometimes unexpected memories. A grandmother's perfume, a favorite flower, or a childhood recipe could do the same for a loved one with Alzheimer's.
Ask the right questions: Drawing out someone's memories can be difficult when that person has Alzheimer's disease. Here's what the Alzheimer's Association of Northern California and Northern Nevada suggests: "Be careful to not put your loved one on the spot when prompting for stories. Don't ask, 'do you remember' type questions, or anything that sounds like quizzing. Ask open-ended questions to encourage sharing. Sometimes just admiring or describing what you see in the photos will prompt a recollection or story."
5 Ways to Capture Memories for Posterity
Once you've unleashed your senior loved one's memories, there are numerous wonderful ways to preserve them: on paper in a journal, in the pages of a scrapbook, or even on video. Take a gander at these five ideas for capturing the memories of seniors with Alzheimer's:
Label and archive photos. The act of going through photos with your loved one may help them recall events and relationships from the past—enabling you to not only write down their memories but also label photos with important people, places and events. Storing those photos in a traditional album (acid-free, of course) or a digital photo frame provides seniors, family and friends with an easy way to reminisce.
Create a scrapbook and keepsake box. Putting photos, awards, articles, and ephemera in the pages of a scrapbook is a nice way to collect related items all in one place. A scrapbook devoted to a single topic, such as a loved one's favorite interest — cooking, for example — may even help evoke further memories. Treasured objects, including the scrapbook itself, can be assembled in a keepsake box for future generations.
Record an oral history. An oral family history is an audio and/or video document that records personal and family memories, usually in the form of interviews. Not only does it preserve your loved one's voice and image in real time, it also strengthens family bonds to embark on such a project together.
Make a video. You or your loved one might prefer something less formal than an oral history, especially if they are in a later stage of memory loss. Recording family visits with grandchildren, eliciting favorite anecdotes, or transferring old videos to DVD are just a few ways families can use the medium of video to capture memories.
Keep a written biography or journal. When your loved one starts to reminisce, take the time to jot it down in a notebook or computer file. Or, if your loved one is able, they can do some journaling of their own. Another wonderful idea is using an online blog or memory book to make a collaborative collection of stories, photos, and memories contributed by family, friends and caregivers.
How have you captured your loved one's memories? Do some methods work better than others for evoking recollections of the past? Share your methods with us in the comments below.
Related Articles: