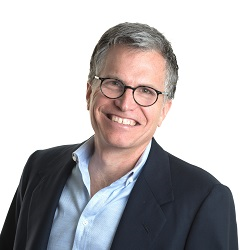 LARRY KUTSCHER
CHIEF EXECUTIVE OFFICER
Larry Kutscher is Chief Executive Officer of A Place for Mom, Inc. In this role he is responsible for the strategic vision, operations and overall management of the company as it continues to build upon its position as an industry leader in providing guidance to families navigating pivotal life decisions around senior care.
Why A Place for Mom
"I am proud to lead APFM as we strive to expand our offerings and enhance the meaningful services we provide customers and families nationwide, create greater opportunities for our team, and deliver value to our investors. Over the course of my career, I have had the privilege to lead several digital companies through periods of significant growth. When I look at APFM, I see a strong market leadership position and innovative offerings - many of the same characteristics that formed the foundation for success in my previous companies. Together with our team, I know we can leverage these strengths to enable APFM to reach its full potential and make a difference for seniors and their families."
Credentials
Larry served as Chief Executive Officer of TravelClick, where he drove the company's overall strategic direction and vision from 2010 through 2018, and helped increased the company's value from approximately $300 million to more than $1.5 billion over eight years. He led the creation of a unique suite of technology solutions for TravelClick's 38,000+ hotel customers, which more than doubled the company's revenue and earnings during his tenure. Before TravelClick, Larry served as Chief Executive Officer of Register.com where he evolved the domain name company into a small business services organization with a focus on being the "web department" for small businesses.
Prior to joining Register.com, Larry served as Senior Vice President and General Manager of the Small Business Group at Dun & Bradstreet, where he helped the company expand its digital offerings, including the acquisition and development of Hoovers, a leading provider of sales and marketing intelligence.
Previously, he was Managing Director with Goldman Sachs Wealth Management, and spent 12 years at American Express. Larry earned an MBA from Columbia Business School and a Bachelor's in political science from Brown University.
TATYANA ZLOTSKY
CHIEF MARKETING OFFICE AND EVP OF OPERATIONS
Tatyana Zlotsky is the Chief Marketing Officer and EVP of Operations at A Place for Mom. She brings a passionate and customer-centric approach to all of A Place for Mom's consumer touch points from brand and search marketing to contact center operations.
Why A Place for Mom
"I feel a deep connection to our mission. Having immigrated with my family to the US from Russia in the '90s, I have been the primary caretaker for my elderly grandparents for many years. In the process, I came across a lot of amazing people who were trying to help, but also encountered a good amount of challenges and gaps when it came to their care and housing. I am personally energized by the idea of helping our customers and their families."
Credentials
Tatyana started her career in smaller companies and starts ups, helping them grow quickly and profitably. She spent the past nine years at American Express leading different teams to bring new products to market, generate awareness, grow new and profitable business segments, and deepen customer engagement through marketing and servicing. Most recently, she was the Vice President and General Manager of Business Development and Digital Innovation where she was responsible for driving revenue growth in the US Small Business P&L.
RAJ BAHL
CHIEF PRODUCT & TECHNOLOGY OFFICER
Raj Bahl is the Chief Product and Technology Officer for A Place For Mom, Inc. He is responsible for product and technology transformation for the company
Why A Place for Mom
"My grandmothers suffered from Alzheimer's disease. It was sad to see them suffer so much. We did not have the help and resources like A Place For Mom when we took care of them. I am passionate about using my passion and skills to help families and seniors through the most challenging time. I am proud to be part of a mission-driven company that makes a difference."
Credentials
Before joining A Place For Mom, Raj was SVP & Chief Technology Officer for A+E Network, responsible for direct to consumer Digital video products for A&E, History, Lifetime, FYI, Biography, LMN, and subscription products like Lifetime Movie Club and History Vault. Prior to his experience in A+E Network, Raj served as Vice President of Consumer Products Technology at Dow Jones. He led technology strategy for WSJ.com, Barrons.com, Martketwatch.com, efinancialnews.com, smartmoney.com, DJ FX Trader, CIO Journal, and CFO Journal. He stablished the mobile technology group and lauched several successful products, including the acclaimed WSJ iPad app. Going back even further Dow Jones, he was Technology Director at NBC Universal. Raj began his career with St. Paul Reinsurance in 1997.
SUE JOHANSEN
SENIOR VICE PRESIDENT, COMMUNITY NETWORK
Sue Johansen is Senior Vice President, Community Network and in this role oversees the relationships we have with our community customers and the effort to acquire new customers – with the primary goal of increasing the conversion of A Place for Mom's referrals.
Why A Place for Mom
"I have been with A Place for Mom for almost 11 years now – both in our sales organization and now overseeing our community network. I have a true passion for helping seniors thrive in the right environment. Having worked with families, helping them find the right solutions, I am able to use that experience to help our community customers improve their performance and maximize results."
Credentials
Sue spent much of her career sales and marketing – both with retail organizations and luxury home design companies such as Estee Lauder, The Picture People, HomeChef, Ann Sacks and Waterworks. Sue then owned her own company selling a suite of specialty products to builders/developers in the SF Bay Area. Sue joined A Place for Mom in 2009 and has worked in both our Sales team, as RVP for the West Division and our Customer team, as Vice President of Strategic Accounts, and now as Senior Vice President, Community Network.
ANDREW PORTER
SVP, GENERAL COUNSEL AND SECRETARY
Andrew Porter leads the legal, compliance and government affairs functions at A Place for Mom.
Why A Place for Mom
"I joined A Place for Mom for the opportunity to do what I love, building and leading a high performing legal team within a values driven organization, while supporting a mission that I feel very strongly about. Like so many of my colleagues at APFM, I have faced the issue of senior care for loved ones in my own life, and I appreciate how valuable a knowledgeable, trusted and compassionate advisor can be at such a time. I am pleased to play a part in delivering such a worthwhile service to families in need."
Credentials
Andrew is an experienced legal executive with over 30 years of practice in outside and in-house counsel roles, and in public and private companies across a number of industries. Prior to joining A Place for Mom, Andrew was General Counsel of INTTRA, which operates the largest online booking platform for the ocean container shipping business. Before INTTRA, Andrew was general counsel of Sterling, the leading provider of background screening solutions. Andrew is a graduate of Yale University and the New York University School of Law.
REBECCA BURSKY
CHIEF HUMAN RESOURCES OFFICER
Rebecca Bursky is the Chief Human Resources Officer for A Place for Mom, Inc. In this role, Rebecca is responsible for all people-related functions including talent acquisition, talent management, leadership development, employee relations, compensation, and benefits
Why A Place for Mom
"I have a passion for people. I truly believe they are at the core of every great company. And at A Place for Mom, our people are even more critical as they are serving our families and communities during one of the most difficult times in their lives. Having personally experienced what it is like when a senior loved one needs help and not knowing where to turn, I firmly believe in the company's mission and our team's ability to achieve it."
Credentials
Rebecca encompasses a wide breadth of experience that spans a broad range of industries as an HR business partner to employee populations such as ours. Most recently, Rebecca was at TravelClick as SVP, Human Resources and led the global HR function. She was instrumental in building a strong HR team, coaching and partnering with the business leaders, as well as hiring and onboarding over 1000 employees. Prior to TravelClick, Rebecca led the HR function at MarketWired; a Canadian-based private equity-owned technology company focused on social media listening, monitoring and analytics. Rebecca also spent eight years at Dun & Bradstreet in various HR roles, ending with head of HR for North America Sales, a 1000+ salesperson organization. Rebecca holds a bachelor's degree in Psychology from University at Albany and is a Professional of Human Resources (PHR).