A Place for Mom is on a mission to spread the word about the benefits of pet-friendly assisted living. We would also like to award those assisted living communities in the West Palm Beach, Florida area who already offer this purrr-fect, paws-tastic senior living option.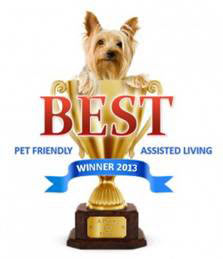 Pets being displaced as their senior owners move into
assisted living
can be not only emotional for the senior who is losing a companion, but also extremely traumatic for the pets losing their homes. And many of the pets are senior themselves, making the adoption process even more difficult—and sometimes not possible. Pets really can be man, woman and seniors'  best friends; so now that
pet-friendly assisted living
is an option, is there any reason our furry friends can't join them in senior living? No, there shouldn't be; especially if you're looking at the right
Florida assisted living communities
.
Why Sunny, Pet-Friendly West Palm Beach, FL Assisted Living is Good for the Senior Soul
West Palm Beach, Florida assisted living can offer more than a healthy dose of Vitamin D, these days. Many communities also allow furry companions to reside in their care. And there are many health benefits, not to mention, support for the emotional well-being associated with seniors having furry companions:
Pets help with loneliness.  It's natural for seniors to feel isolated as they are no longer working and constantly subjected to socialization in everyday interactions. According to researchers in Australia, dogs and cats have improved the well-being of assisted living and residential care residents by promoting the seniors' capacity to build relationships.
Pets help with anxiety. Having a pet can be an important coping mechanism for people who suffer from anxiety. A study out of the Medical College of Virginia found that for hospitalized patients with mental health issues, therapy animals significantly reduced anxiety levels.
Pets help with rehabilitation.  In an instance of a severe illness or prolonged hospitalization, therapy animals can be integral in the process of rehabilitation.  In fact, service animals have been shown to assist people with disabilities perform everyday tasks, making them less dependent and happier overall.
Pets promote physical activity. Whether it's stroking a cat's fur, walking a dog or simply caring for a beloved pet, there are positive endorphins and physical activity that comes with having a furry companion. This form of care can be therapeutic for seniors.
Finding Pet Friendly Assisted Living in West Palm Beach, Florida
Today dogs and cats are part of the assisted living picture. Visitors of West Palm Beach assisted living communities can see dogs on leashes, happily following their elderly owners; or cats napping on laps as their prideful owners stroke their fur. It's also common to see residents visiting other residents who have pets on a 'social call' as the pets give them a fun reason for the visit. One West Palm Beach assisted living resident talks about her lovely feline companion: "He almost talks. He knows what I'm saying," said Pritchard, an 88-year-old widow with no children. She's talking about O'Reily, a black and white cat she shares a room with at John Knox Village in Pompano Beach.
While some seniors bring their pets to assisted living communities, others adopt them as companions once they've moved in. "It's traumatic enough to have to come from your independent apartment to one room here," said Melodie Fritzinger, Administrator of John Knox Village's Gardens West assisted living center. Being pet-friendly "is good for our residents and makes things more homelike," she said.
But it's important to do your research as communities have specific pet policies with weight and breed restrictions. While many communities allow dogs, cats, birds and fish, and have Pet Coordinators to help with the pets' care;  the individual community policies do differ.
Contact the West Palm Beach, Florida pet-friendly communities below for their specific pet policy information: