While it can be difficult to bring up finances with an aging loved one, there are effective ways to do it. Learn strategies for talking about money, so your family is prepared for whatever happens.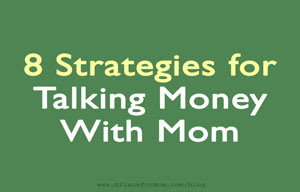 Six years ago, Jane Matlaw's father, now 90, gave her sister and her a full accounting of his finances. There was no guessing how much the widower had or if they would need to pitch in, and no frantic scrambling for information if something suddenly happened to him. They knew where everything was, including the key to his bank safety deposit box and the number of his financial planner.
By broaching the "Money Talk," Matlaw says, "my dad gave us a gift." Her family was lucky, but not all families are as open. Learn smart strategies for bringing up finances with aging loved ones.
8 Strategies for Talking Money with a Senior Loved One
Money in our society is a subject that is off-limits. In some families, talking about money is crass and others just prefer to be secretive. They think their finances are no one's business, including their kids'. They may be embarrassed that they haven't been better planners or don't have much money. Or, they're just plain deniers, thinking they'll deal with the issue down the road.
Talk with a Senior Living Advisor
Our advisors help 300,000 families each year find the right senior care for their loved ones.
Whatever the reason, it is important to have that frank money conversation. How can you do the best by them if you don't have the facts? How can you plan for your own future if you don't know if their situation could impact yours? Do you need to step in and help them manage their money, or get someone else to? (The National Council on Aging has set up an excellent resource for boomers and their parents called the EconomicCheckUp for planning budgets and expenses.)
To start the conversation, try these eight strategies:
1. Realize It's About More Than Just Money
Part of  the talk needs to be about documents (power of attorney, healthcare proxy, updated will — they have one, right?), insurance, investments and debts.
Two years ago, Donna Woker, 61, found out that her mother began paying bills late or skipping payments altogether. "It became clear that she didn't know what she had or what she owed," says Woker. What's more, her mother couldn't remember where she put her lockbox with important documents, or even the key. When Woker had previously asked about finances, her mother would say, "We don't need to talk about that now." Eventually her mom moved into her daughter's Westerville, Ohio, home and then to assisted living. "It would have made that transition much easier if we had had that talk," says Woker. "I knew Mom was okay in the immediate term, but I didn't know what long term planning she had done."
2. Pick the Right Time
Have the conversation when both of you are not rushed, tired, or worried about something else. Shoot for a place where there are no distractions. Decide whether siblings, or another respected family member, should be there. Does it make more sense for their accountant, financial planner, physician or geriatric care manager to bring up the money issue first?
3. Explain How Sharing Information Will Benefit Them
Simple! It will give them more control over their life. Money matters. Options (housing, health care, lifestyle) will be clearer when they/you have a sense of what they can afford and want if they get sick or impaired and need help. Reassure them that you want them to be as independent as they can, that you're not asking because you're nosy, but so you can respect their wishes.
4. Make It About You, Too
They don't want you to worry, do they? Perhaps tell them, "I'm concerned that if something happens to you, I won't know what financial resources there will be or what your preferences are." As Matlaw, a social worker by training and Director of Community Relations at Beth Israel Deaconess Medical Center in Boston, puts it:
"If parents want to make their children's lives easier, then having a conversation about money when they are healthy, rather than waiting for a crisis, is the way."
Make the powerful point that when kids don't have much information, they may fight, which can permanently impact sibling relationships.
5. Show Them You Are Proactive
Let them know you, too, have important documents, a good grasp of your finances, and a plan should you no longer be able to manage your money.
6. Mention Scams
Share a news story they can identify with about elder financial abuse. Warn them about mail requests for personal information, fishy telemarketers, or strangers who suddenly befriend them. Look at their annual credit report and get on the National Do Not Call Registry at www.donotcall.gov or (888) 382-1222.
Determine if  you should monitor their credit card bills to avoid fraudulent charges or expenses from household and health care help.
7. Step Up
Do they need an assist with their mail or paying bills?
If they don't know where their accounts and information are, or how much money they have, help them get organized, or find someone who will. Not sure what to do? A good place to start is an elder law attorney.
8. Tackle the Elephant in the Room
Westport, Connecticut, clinical psychologist Janis Spring says it's best to address the discomfort head on — but first, you have to figure out what makes the money conversation awkward or sticky. For instance, "I know in our family we're not used to talking about money, but we need to," or "I've avoided this conversation because I'm afraid you'll think…"
Spring, author of Life With Pop, about caring for her father, says that what can make this discussion particularly difficult is that "you both know that whatever they don't spend you stand to inherit. That creates a peculiar dynamic."
On the other hand, your parents may be relieved and grateful that you've brought up the subject. They may have wanted help but feared bothering or upsetting you, or did not know how to get the ball rolling. But roll, it must.
Have you had The Money Conversation with a senior loved one? Do you have any pointers? Share your story in the comments below.
Related Articles: