Holiday Retirement recently launched a national survey called "100 Years of Wisdom: The Perspective of Centenarians." Jamison Gosselin, Vice President of Marketing, Communications and Resident Enrichment Programs at Holiday Retirement in Oswego Oregon, wrote the following article that reveals just one of the many insights to be learned from the survey.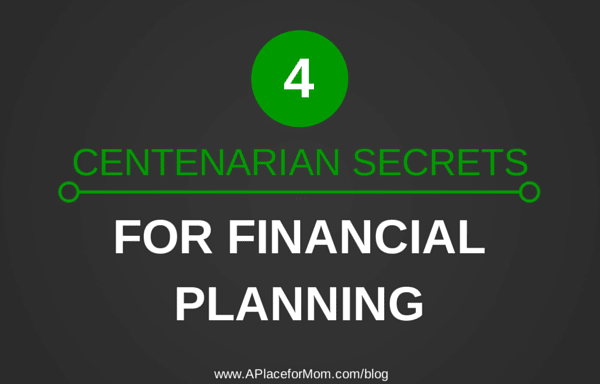 Nearly 1 in 4 centenarians say they were not financially prepared to live as long as they have, according to a nationwide survey of 100-year-olds recently conducted by Holiday Retirement. Highlighting the personal finance-related beliefs and regrets of the generation of American adults that has seen more economic ups and downs than any other, the survey offers centenarians' unique perspectives on what it takes to plan a financially successful retirement in the 21st century.
Centenarians, more than any other generation, understand the value of saving money, even if 25% of them say they did not save enough. As teenagers or young adults, they endured the Great Depression, a time in which economic sacrifice was not simply part of a financial plan; it was a necessity. As adults, they raised larger families and relied on budgets to make ends meet. And as older adults, they planned for a retirement that would need to last for a longer lifespan than their parents' (the average American lifespan is 25 years longer today than it was in 1914).
Although every American certainly will not live to be 100, saving for a century-long life does have its upside. It is through this lens that today's centenarians offer their advice for what tomorrow's seniors can do to plan a fulfilling — and financially stable — retirement.
Here are their top four secrets to building an economically successful future:
1. Start Saving Early
Nearly 1 in 4 centenarians say their biggest financial regret was that they should have started saving at an earlier age. This advice is particularly relevant given a recent survey from the non-profit Employee Benefit Research Institute and Greenwald and Associates, that shows that about 36 percent of workers have less than $1,000 in savings and investments that could be used for retirement, and 60 percent of workers have less than $25,000.
2. Find a Financial Advisor You Trust
Whether you plan to live to 85 or 105, knowing how, when, and where to invest can make a significant difference in your financial comfort after retirement. Nearly 1 in 10 centenarians say they should have worked with a financial advisor when planning for retirement.
3. Learn to Sacrifice
Although a latte-a-day habit may feed short-term cravings, putting that extra $4 per day into a retirement account may be a better long-term plan. Surveyed centenarians know sacrifice better than most, having lived through both the Great Depression and the Great Recession. However, even with the wisdom gained from these economically devastating times, nearly 1 in 10 centenarians say they should have been better at learning to sacrifice and go without.
4. Stick to a Budget
Centenarians say that one thing today's adults will most likely regret when they get older is spending too much money (15%), followed by not saving enough money (13%). It is important to create a budget that is closely followed that includes a line item for retirement savings, even when you are tempted to spend that money elsewhere.
Although saving for retirement may mean cutting back on some of life's extravagances, the surveyed centenarians remind today's adults that it was not material possessions that brought them the most happiness. It was spending time with family and friends.
View the complete report, "100 Years of Wisdom: Perspective of Centenarians," which also includes centenarians' life lessons on love and marriage, health and happiness, and longevity at 100yearsofwisdom.com.
About the Author
Jamison Gosselin has served in the field of senior living for more than a decade in a variety of communications and marketing roles, with a keen interest in the consumer behavior of seniors and their adult children.  Currently, Jamison is vice president of marketing, communications, and resident enrichment programs at Lake Oswego Oregon-based Holiday Retirement, an early pioneer of retirement living communities in the United States.
What words of wisdom would you ask a centenarian? Please share them in the comments below.
Related Articles: