Moving a loved one with Alzheimer's disease into memory care can be a wrenching transition, but Senior Lifestyle's Walk With Me program is making it easier for families, seniors and caregivers, too.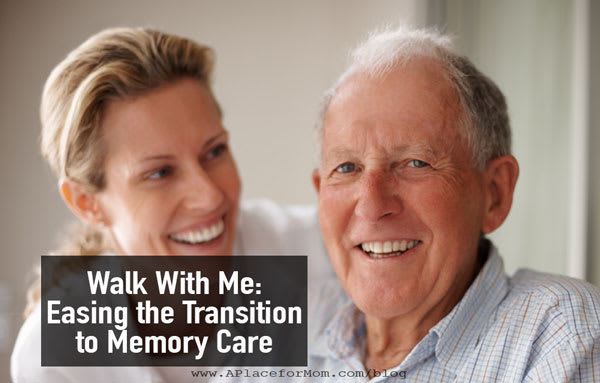 With the number of Alzheimer's patients over 65 set to triple by the year 2050 — from 5 million to as many as 16 million, according to the
Alzheimer's Association
— the need for senior memory care is becoming increasingly important by the day. Yet, as those of us who have witnessed dementia in a loved one are well aware, statistics are only one part of the picture.
Even with many senior communities now offering dementia care, family caregivers must still face issues of availability and cost, as well as choosing the right place where loved ones will thrive. Also, once you've identified a residential community, the transition itself causes even more stress: seniors may resist moving or be unable to fully comprehend what is happening, causing families to be unsure of where they fit into the picture.
Senior Lifestyle is a Chicago-based company that is easing that transition process in their own communities. With their ALFA award-winning Walk With Me program, Senior Lifestyle aims to create strong connections between residents, caregivers and families, with a relationship that starts before move-in day and doesn't stop there.
Partnering with Families in the Transition to Memory Care
In the Walk With Me program, each family is connected to a care partner who has been matched with the resident based on compatibility. An intensive pre-screening process takes place, during which the family and resident complete a Life Story and Preference Form. This tells the director of the Legacy Court neighborhood what defines the resident as a person and what they value in their day-to-day life; what their hobbies and interests are; and anything else that will help encourage a personal bond between resident and caregiver.
Kelly McCarthy, Corporate Director for Memory Care Services at Senior Lifestyle, says,
"The more we know about Mom, the more successful we're going to be in caring for her, and the more successful she's going to be."
The Legacy Court Director then chooses a care partner, who will help the family create an individual Transition Plan. "Move-in can be heart-wrenching for families," says McCarthy — especially for someone with memory loss, who may not even realize a transition is taking place. "We value the fact that they can be proactive in this process."
Walk With Me—and Talk With Me: Regular Communication is Key
The process of working with families doesn't end there, though. As McCarthy points out, "The transitional state is really continuous." That's why one of the foundations of the Walk With Me program is communication: daily phone calls or in-person conversations for the first 7 days of the transition ensure that the family is a part of the process, so they don't feel like they are a bother or question where they fit in. It also gives them peace of mind knowing how their loved one is settling in, and gets them used to the idea that a call from the residence isn't inevitably a cause for alarm.
"Frequent contact means that when the community's phone number comes up on the phone, it isn't greeted with dread, but with excitement to hear about how mom is doing," McCarthy says. After that first week, communication during the first month takes place 3 days a week, whether it's in person, by phone, email or snail mail. After the first month, the family is contacted at least twice a month, and the resident is encouraged to send at least one monthly update via snail mail, such as a card or photo.
The care partner visits his or her resident at least twice a week, one on one or during a group activity. They document their notes about how the resident is doing, and what they are doing, in a program journal that is accessible to families.
Harnessing Technology to Help with Caregiving
In addition to the regular friendly contact of the caregiver, residents of Legacy Court neighborhoods are also monitored by the cutting-edge technology of the QuietCare system. It collects data on resident activity inside the room, such as bathroom use and movements in and out of doors, and even watches for falls.
"QuietCare reports can be used to help families understand the changing needs of their loved ones," says Kristy Smiley, Assisted Living Director and Director of Nursing at Senior Lifestyle Corporation's Evergreen Retirement Community. If there is an emerging health condition, or if a patient with dementia shows wandering behavior, QuietCare can alert the caregiver and provide helpful information for discussions with the family.
A Win-Win for Caregivers, Residents and Families
Though the Walk With Me program is still in its early years, the reports coming back are enthusiastically positive. "She even talks about how she knows it is the best place for her and she doesn't need anything more," said one family member of a Bellingham resident. "It makes our family feel so blessed to know mom is in a wonderful place and receiving such good care."
In fact, says McCarthy, not only have families and residents enjoyed the benefits, but caregivers have, too. In facilities that offer the program, staff retention has increased, and caregiver turnover has gone down. The increased closeness and friendship with families and residents seems to be the key. "I have wonderful families and now we are much closer," said one employee at Harbour of Monroeville. "I have started the program with two residents. One of my resident's daughters said she can't wait to get my phone calls! I enjoy giving her updates on her mother. She is happier and I am happier that we are giving her mother a little extra love."
Have you had any challenges transitioning your loved one to memory care? Share your thoughts with us in the comments below.  
Related Articles: