Last Updated: October 3, 2018
A new, high-tech pharmacy offers online services that help address the problem of medication management for seniors taking multiple prescriptions.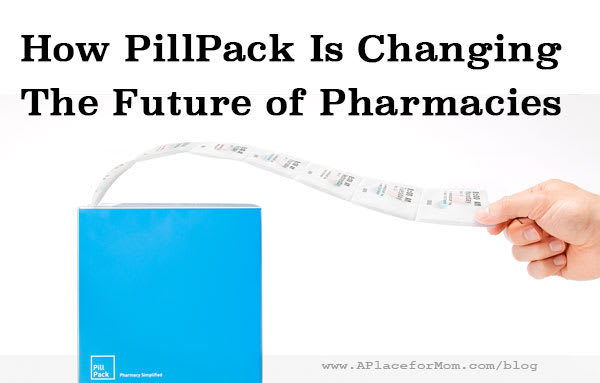 Online pharmacy services have been under a lot of scrutiny lately, with the FDA cracking down on disreputable online pharmacies that purport to provide drugs at a cheaper rate — some of those services might not be licensed, they might not be managing your medications properly, or they might not be properly safeguarding your personal information. But, there's no doubt that an online pharmacy is an appealing option. Being able to get prescriptions filled without waiting around at the drugstore sounds like a relief, especially for seniors and those with chronic illnesses, who may need to take a whole suite of medications on a rigid schedule.
Problems with Medication Management
Medication management can be a major issue for seniors and their caregivers — a Medscape article reports some disturbing facts:
People age 65 & older make up 12% of US population but account for 34% of prescription medication use

About 60% of seniors take their prescriptions incorrectly and 140,000 die annually because of improper medication use

Polypharmacy (taking different medications for different conditions) can put seniors at risk for problems like overmedication and drug interactions if medications are not properly managed.
PillPack: Pharmacy Services Online
Enter PillPack, a legitimately licensed mail-order pharmacy that addresses both supply and scheduling issues. A Place For Mom recently consulted PillPack to learn more about the services they provide. According to TJ Parker, PharmD, CEO & Co-founder of PillPack,
"We offer a better, simpler pharmacy that enables people to take the right medication at the right time — resulting in healthier, happier customers who have more time to spend living well instead of managing medications."
PillPack Provides
Everything is delivered in pre-sorted packets, organized into a recyclable dispenser. A new batch arrives every two weeks along with a clear, easy-to-read label printed with the date, time, and a list of the medications inside. They manage all this with the help of robots, but human pharmacists are available both online and by telephone 24 hours a day. Also, like any other pharmacy, they accept most major insurance plans, as well as Medicare Part D. They can also send out reminders via text message, prompting you for any updates and confirming any changes to your order.
How PillPack Could Benefit Seniors
This type of service is potentially a godsend for seniors and their caregivers. Of course, nothing trumps responsible caregiver behavior and vigilance about the medications our loved ones are taking, but PillPack might make that a lot easier. It provides a centralized pharmacy service for all medications and supplements, reducing the likelihood of overdoses and drug interactions that result from using multiple providers. Clear labeling and instructions — as well as timed packets — should also help minimize some of the common issues that arise with polypharmacy.
There are other benefits, too. "They get the freedom associated with not having to continually drive back and forth between home and the pharmacy, or wait in long lines as prescriptions are being filled," says TJ Parker. "Most importantly, it makes it much easier to take the right meds at the right time, reducing the worry of an overdose or forgetting to take meds."
Where is PillPack Available?
PillPack can ship prescription medication, over the counter medication and vitamins anywhere in the continental U.S., PillPack is not able to ship to Hawaii or internationally.
Potential customers can sign up online, at www.pillpack.com, or by phone at 844-745-5725. There is no additional charge for using PillPack — provided they accept your insurance. We recommend calling and speaking to them before signing up to make sure they accept your insurance. PillPack accepts most prescription drug plans, including Express Scripts, CVS Caremark, and most Medicare Part D plans. PillPack also offers subscribers access to preferred pricing for vitamins and over-the-counter medications.
Though may not be available to everyone, PillPack and other services like it are a fairly exciting prospect for caregivers who want a more efficient method of tracking their loved ones' medications and ensuring compliance. As CEO and Co-Founder TJ Parker puts it,
"We are making it simple for anyone to take the right medication at the right time."
Would you use an online medication management service like PillPack if it were available to you? Let us know in the comments below.
More Articles