With higher rates of aging without children, boomers are starting to reflect on how to deal with senior care without the support of offspring. When the time comes, who will help them with tasks like overseeing medical needs and financial items? With proper planning and support, childless adults can approach their senior years with confidence.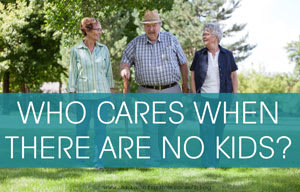 Sara Zeff Geber, a retirement coach from Los Gatos, CA, has been noticing something lately: her friends are spending a lot of time caring for their parents. They visit often, coordinate doctors and medication, provide hands-on care or oversee professionals, and handle bills. If it's no longer safe to stay in their homes, their children help them move.
But what if, like Geber, 64, you don't have kids? "Who will swoop in and make decisions if we can't?" she wonders. What happens if Geber, a female, follows statistics and outlives her male spouse? Who will care for her then?
A retirement coach who speaks and presents workshops on aging called "Fifty-Plus, Minus Kids," Geber has coined the word "solo aging" to describe anyone single or married without kids. This fall she will take her own advice, as she and her husband plan to move out of their long-time home to a nearby co-housing community so they will have other people around as they grow older.
Caregiver Statistics
Today, one in five baby boomers has no children, and one-third of adults will enter old age single (never married, widowed, or divorced). While the overall U.S. divorce rate has declined since 1990, it has doubled for the age 50+ demographic.
Talk with a Senior Living Advisor
Our advisors help 300,000 families each year find the right senior care for their loved ones.
Consider these other sobering statistics:
80% of eldercare is provided at home by family members

The estimated value of family caregivers' unpaid contributions was around $450 billion in 2009

In 2008, there were nearly twice as many women without children as in 1976
Support is Important
It's not just about having money to hire help. Research links physical and emotional well-being to a strong support system, whether that's a partner, child, or friends. Isolation, on the other hand, can lead to depression and poor health.
Without kids, you'll need to plan for your future more carefully. Here are three smart strategies:
1. Face Facts
Sure, your niece and nephew adore you, but do not count on them! Also, realize that even if you're in good health, something could still happen to you (an accident, an illness, or plain old age).
Maggie Peterson, 61, a divorced part-time Boston marketing consultant without children and family far away, is a cancer survivor with heart issues. A single friend referred her to an elder law attorney who specializes in an increasingly popular field called chronic care advocacy. The firm provides legal representation, asset protection, and care coordination, including housing and placement. They are also her healthcare proxy. "Now that there's a plan in place I feel much more in control. I can put it out of my mind and live my life," says Patterson.
2. Get Your Ducks in Order
Those ducks include a will, a living will or other advance directive, a health care proxy, power of attorney and perhaps long-term care insurance. Consult with an elder law attorney and a financial planner. Living longer can mean more end-of-life decisions. So that there's no guessing, a free document such as Five Wishes spells out what you want in terms of end-of-life medical care and is a legally recognized advance directive in 42 states. Share it with relatives and friends. While you're at it, keep all your records, policies, documents, bills, and passwords in one safe place and tell those who need to know.
Figure out what your life is lacking. Is it friends? Interests? Your housing situation? Are there amenities nearby and specialized transportation for when you can no longer drive? Want to share a home with a friend or relocate? Research options, including the local senior center and your Area Agency on Aging.
3. Create Your Own Family
When you're retired, you won't have the day-to-day interaction and relationships may lapse. Have replacements waiting in the wings or figure out how you're going to make them. Church? Town events? A community walking club? Get a group to go to dinner every other month and ask friends to bring friends. Think about who makes up your support system. Most importantly, who would you call in an emergency? As Dorian Mintzer, a psychologist, retirement transition coach and co-author of the Couple's Retirement Puzzle puts it: "When everything is going well, you don't want to think about the future or rock the boat, but the boat inevitably gets rocked and there are all these curveballs. It helps to plan so you can control the parts that you're able to, especially if you don't have children."
Are you a boomer who doesn't have kids? What suggestions do you have to prepare for future elder care needs? Share your thoughts with us in the comments below.
Related Articles: