Imagine you have been caring for your elderly mother at home, but her needs have progressed to the point that she requires professional 24-hour care at assisted living. You've done a good deal of research over the past year and even chosen a senior community in your neighborhood that meets your budget. But when you contact the community you learn that they have a three-month wait list. Your mother needs care now, and you're back to square one.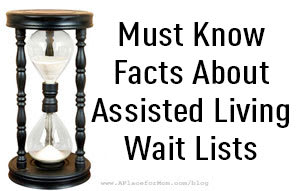 This scenario can be avoided by joining the assisted living community's waiting list. This is important, because even if a community is not full when you visit and even if you are not yet ready to transition to assisted living, it's often the case that your first choice community will not be available when you need it. Planning ahead and getting on a wait list can give you more control over your options, in addition to saving you time and heartache.
Rick Westermann, National Account Manager at A Place for Mom, who has extensive experience in the senior living industry, filled us in on five time saving (and cost saving) facts about assisted living wait lists and the state of the senior living marketplace:
1. Assisted Living Communities Have Limited Availability
As of 2013, assisted living communities across the nation had an 89% occupancy rate according Leading Age. This means that there is a good chance that your preferred community is full. Westermann estimates that 35—45% of senior living communities are fully occupied or nearly full.
Talk with a Senior Living Advisor
Our advisors help 300,000 families each year find the right senior care for their loved ones.
2. Wait Lists Require Deposits
Most senior communities require payment to be added to a wait list. Fortunately, most community wait list deposits are fully refundable at any time. The cost of the deposit can vary significantly between communities. Westermann says he has "seen wait list deposits range from $250—$2,000 for independent living, assisted living and memory care."
3. Not All Wait List Policies Are the Same
Westermann stresses that families should understand the deposit process when they are shopping for assisted living or memory care due to immediate need. Some communities will hold a specific apartment 15—30 days for a family that has made a refundable deposit. Other communities may offer "first right of refusal."
A first right of refusal occurs when a second family becomes interested in an apartment the first family has already deposited on. The community normally gives the first family at least 24 hours to elect if they want to take an apartment. If the family elects to not take the apartment they can change their first right of refusal to a different apartment or keep their position on the wait list for the next available apartment.
Make sure to speak with a staff member at your preferred community if you have questions about their wait list policy.
4. You Can Reserve Your Favorite Apartment Suite
Wait lists allow consumers to reserve their first choice apartment suite without making a commitment. Families can use these policies to acquire the most desirable suite or room while giving themselves ample time to learn more about the community and research other options. Westermann explains, "Check to see if a wait list deposit is fully refundable at your chosen community. If it is, use this option to your advantage. Place a deposit on the exact apartment size, style, floor and view that you desire. When it becomes available you will get a call, and if you aren't ready, you can hold that same position on the wait list. If something happens and you don't plan on moving, the community will mail the check back to you in 30 days or so."
5. Some Communities Have Internal Wait Lists for Special Care
Many assisted living communities also offer memory care for residents who have moderate to advanced Alzheimer's disease and other types of dementia. Memory care is typically provided in a special, dedicated area at the community. This allows residents with dementia to graduate from assisted living to higher levels of care without having to move to a completely new community.
Westermann told us, "A family or a community nurse can initiate the conversation that an assisted living or independent living resident should consider moving to memory care. If memory care is full, communities will usually place an internal resident at the top of the wait list for a higher level of care."
Do you have any questions about community waiting lists that we have not covered in this article? Please share your questions in the comments below.
Related Articles: