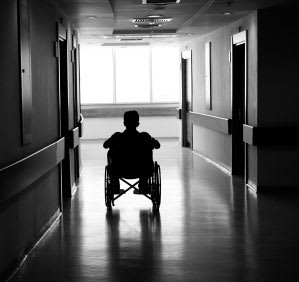 The truth about nursing homes is sobering. Though we assume that seniors in nursing homes or assisted living facilities receive a basic level of comfort and safety, the National Center on Elder Abuse (NCEA) reports that in 2012 nearly 1-in-3 nursing homes were cited for violating federal standards over a two-year period, and over half of nursing home staff members admitted to mistreating senior residents over the prior year. When caregivers start the process of finding senior care options for their aging family members they need to evaluate information about each facility critically and carefully.
Abuse has always been a problem, but with today's large population of aging seniors, in conjunction with the depressed economy, families really need to be diligent when finding nursing homes. In fact, according to Elder Care Attorney Rich McIver, whose law practice specializes in fighting nursing home elder abuse, "2012 is the worst year on record for nursing home violations." McIver continues, "In terms of both the gross number of violations, and on a per capita basis, the quality of care provided at nursing homes is at its worst in decades."
Why Nursing Homes Fail Inspections
One common trait the worst nursing homes share is a failure to pass health and safety inspections. In order to receive Medicare and Medicaid services, nursing homes must pass these inspections and meet Congressional requirements for over 180 safety standards. Nursing homes that do not pass inspections violate the following standards:
Health care

Medication management

Safe food storage and preparation

Well-being of residents

Fire safety

Sufficient numbers of appropriately trained staff
Medicare has partnered with state governments to inspect nursing homes and investigate complaints about specific facilities, and the results of these inspections are available in detail on the Medicare Nursing Home Compare website. Caregivers who are seeking assisted living options for seniors, or other types of senior living, may also want to contact the long-term care ombudsman for their state or region. A long-term care ombudsman is trained to assist seniors and caregivers in finding the right assisted living situation and avoiding the worst nursing homes.
Why Nursing Home Violations Are On the Rise
Rick McIver provides three primary reasons why nursing home violations are so bad in 2012:
The rapidly growing aging population is vastly exceeding the limits of the old non-profit nursing home system, so corporate-owned networks of nursing homes have become the norm. These corporations are generally money driven, so they are cutting staffing and care requirements across the board (this is happening nationwide).

Most nursing home patients are now paying via Medicare and Medicaid as opposed to private pay. The fact that the corporate-owned nursing home is now receiving a guaranteed flat payment for each patient, means that their profits must be made by cutting on the expense side, specifically patient care, and by packing as many patients as they can into a facility. This of course leads to deteriorating care.

Over the last decade, tort-reform has been passed in a number of states across the U.S. This makes it very difficult for individuals who have been hurt or killed in a nursing home to sue the nursing home and win any substantial money. The reason that is important, is that for a corporate owned nursing home, the threat of a large damages award forces them to ensure that the care they provide meets minimum standards. When there are no legal consequences to providing poor care, unfortunately, the quality of care falls rapidly.
Most Common Types of Nursing Homes Abuse
Millions of seniors suffer from elder abuse, neglect, financial exploitation, and even violence in nursing homes and care facilities. Only 1 in 5 cases of physical elderly abuse are ever reported according to the NCEA, so caregivers must do their research in order to avoid the worst offenders . The National Center on Elder Abuse reports that the most common types of abuse in nursing homes and assisted living facilities are:
Tips to Ensure Your Loved Ones are in a Safe Environment
Check on the overall health and safety reports for the facilities you're considering, either through Nursing Home Compare or your local long-term care ombudsman.

Keep an eye out for the warning signs of abuse, such as physical evidence of violence or neglect, emotional withdrawal, unusual behavioral changes, and sudden changes in accounts or finances.

Stay in communication with your loved ones, and give them the opportunity to update you on any complaints they have about their facility.

Report any suspected mistreatment of seniors to local law enforcement or an elder abuse reporting hotline. The National Center on Elder Abuse maintains a state-by-state directory of helplines and abuse prevention resources.
Nursing Homes Watch List June 2012

Each month the Centers for Medicare & Medicaid Services (CMS)  publishes a list called the Special Focus Facility (SFF) of poorly performing nursing homes, based on the following criteria:
More problems than other nursing homes (about twice the average number of deficiencies)

More serious problems than most other nursing homes (including harm or injury experienced by residents)

A pattern of serious problems that have persisted over a long period of time (as measured over the three years before the date the nursing home was first put on the SFF list)
Learn about the Special Focus Facility ("SFF") Initiative and get the June 2012 list of worst nursing homes as compiled by CMS.
If you are considering admission to a nursing home included on this list you may want to:
Visit the nursing home. Talk to staff, residents, and other families. Request to see the results from the last State or CMS survey (it should be in a place that is easily accessible.)
Ask the nursing home staff what they are doing to improve the quality of care for residents in the nursing home.
Call the state survey agency.  Find out more about the nursing home. Look at the length of time that a nursing home has been on the SFF list. This is particularly important if the nursing home has been an SFF nursing home for more than 18-24 months, since such nursing homes are closer to either graduating (due to improvements) or ending their participation in Medicare and Medicaid.
And get more information on nursing homes and finding the right care for your loved one.
About Rich McIver…
Rich McIver is a Nursing Home Abuse and Neglect Attorney with McIver Brown Law Firm. The firm represents the victims of nursing home abuse nationwide.
What are your thoughts surrounding this topic? Have you or a loved one experienced elder care abuse in nursing homes? We'd love to hear your thoughts in the comment section below…