Do you have elderly parents who want to live in their own home for the rest of their life? You're not alone. According to the 2015 United States of Aging Survey, 75% of older adults plan to live out their days in their current home.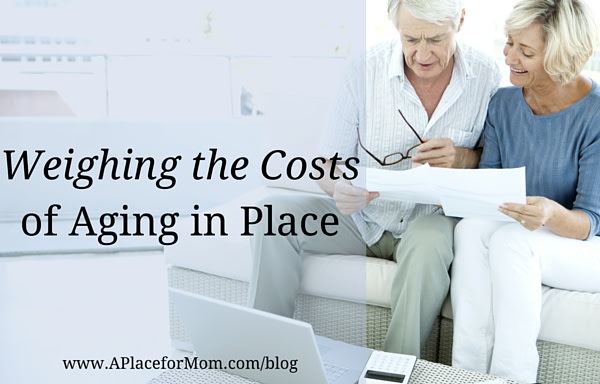 The reasons for wanting to age in place vary from one individual to the next, but often include strong memories, comfort in the familiar, a hesitation to downsize and the myths surrounding retirement communities, including the fear of losing one's independence, a belief that retirement communities are too expensive or that the care is not adequate — myths that are simply unfounded.
The Hidden Costs of Caregiving
The fact is many seniors who choose to age in place are faced with costs and responsibilities that are difficult for them to manage. The responsibility of caring for seniors who age in place often falls on family members and the emotional, financial and physical costs to these loved ones are not only drastic — they can sometimes interfere with family relationships.
For many adults, caring for a parent is a higher calling and most are happy to do it. According to the the MetLife Mature Market Institute, nearly 10 million adult children care for older parents in the United States and Statistics Canada reports that 27% of the country's population, or 8.1 million Canadians are family caregivers.
For some people caring for an elderly family member is the best choice — it really depends on the people involved, financial circumstances and health issues at play. But did you know that the amount of time involved in caring for a loved one is the equivalent to taking on a second job?
Loved ones, on average, spend 20.4 hours per week providing care and that number increased to 39.3 hours per week if the care recipient also lived with them, Holiday Retirement reports. Before you jump in head first, consider the hidden costs associated with caring for an aging loved one:
Financial Cost
The MetLife Study "Caregiving Costs to Working Caregivers" reported that annual costs of caring for an aging loved one (such as lost wages, pension and social security benefits) are approximately $324,044 per woman, and $283,716 per man

​A report from Indiana University estimates that unpaid care provided by family members and loved ones costs approximately $375 billion per year, while the abovementioned MetLife Study places the cost closer to nearly $3 trillion

6.1 million employed Canadians, or 35% of Canada's workforce are family caregivers and 50% of family caregivers are between the ages of 45 – 65 years old — their peak earning years

Adult children whose parents have a sudden, prolonged illness face the financial consequences of lost productivity at work which can jeopardize future opportunities for employability and advancement
Physical Cost
Spending 20-40 hours a week caring for an elderly parent while also working full time and caring for your own household can cost you physically, resulting in exhaustion, stress and burn out

According to the Family Caregiver Alliance, a quarter of women who provide care for loved ones developed health problems due to those activities
Emotional Cost
Many caregivers — especially those in the sandwich generation — find it difficult to balance work and family responsibilities. Caregivers report an increased rate of emotional and physical stress, increased health problems, greater financial strain and little time for themselves, all of which can interfere with their ability to care for their loved ones.
1 in 4 Canadian caregivers are sandwiched between child rearing, care giving and paid work

Caring for an aging parent is a wonderful way to show them you love them, but it can also cause you to lose out on your own experiences, time and money, suggests a U.S. News & World Report: "In some cases, these personal sacrifices can create bitterness and regret, causing ill will toward the very people you love and have pledged to help."

Women caregivers in particular were six times likelier to suffer from depression and anxiety than women who were not caring for a loved one, reports the Family Caregiver Alliance
Weighing the Hidden Costs of Aging in Place
Aging in place has significant financial, physical and emotional costs for family caregivers, but there are also hidden financial costs for the aging parent:
Food, Health and Nutrition Costs
Seniors who live at home usually do not eat as regularly as seniors who live in an independent living community. According to a 2012 Gallup Poll, seniors who live at home spend $50 less on food each week than the average person. Poor nutrition and diet can lead to health problems. For American seniors who have to pay for health care, the costs of not eating well are significant. Canadian seniors who have to pay out of pocket for prescription drugs will also pay more in the long run if their health suffers from poor nutrition.
Housing Costs
The Fiscal Times estimates that owning a home costs about $6,000 a year in home insurance, property tax and utilities — expenses that seniors who live in an independent living community don't have to worry about. In addition, seniors who find it physically difficult to navigate their home put themselves at increased risk of falls and injury. Installing safety features in the home (like wheelchair ramps and bathroom handrails) could cost between $9,000-12,000.
Seniors who choose to age in place usually have to include the following additional expenses in their budget:
Mortgage payments and fees

Transportation costs

Hired help for home repairs and home maintenance
Seniors who have difficulty maintaining their home may also need additional help with cleaning, yard maintenance and snow shoveling, costs like these can start to add up.
The Costs of Isolation
Many seniors find that as they age their friends and neighbors begin to move away or pass away, and as a result they become isolated as their nearby support network shrinks.
According to Jamison Gosselin, Vice President of Marketing, Communications and Resident Enrichment for Holiday Retirement, seniors who choose to age in a retirement community often experience an improvement in quality of life due to improved socialization and nutrition.
"The transportation options and busy calendars of activities help keep seniors active and engaged, while the chef-prepared meals with a focus on seniors' specific nutritional needs help maintain their health," he explains.
"Letting go of a beloved home can be difficult, however time and again we hear from our new residents they wish they had not waited as long to move to one of our communities," says Gosselin. "What seniors and their loved ones need to keep in mind is that the costs of staying put, many of which aren't immediately apparent, can mount quickly and become a challenge as the issues of living at home alone snowball. While moving may come with short-term hassles, the long term benefits of a move to a senior living community are tremendous."
With this in mind, Holiday Retirement has published "7 Unexpected Financial Benefits of Living in a Senior Living Community." This free eBook is available to download and includes a "Cost of Retirement Living Checklist" so that you can get a realistic picture of how much you would spend on a senior living community (as well as what is and isn't included in the fees) versus the costs of aging in place, the costs of home care services and the costs of caring for an aging loved one yourself.
Holiday Retirement's eBook is a valuable resource that will help you understand the expected and unexpected costs associated with moving to a retirement community versus aging in place. It will provide you with the information you need to make an informed choice for yourself or your loved one. 
Are you a caregiver for a parent or senior loved one? What hidden costs of aging have you experienced while providing for them? Share your stories with us in the comments below.
Related Articles: