Every October 1st, Canadian seniors enjoy a double dose of appreciation. In 1990, the U.N. declared the date to be the official "International Day of Older Persons," and in 2011, Canada followed suit by putting its own annual October 1st "National Seniors Day" on the calendar.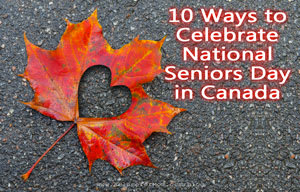 The special recognition is intended as a "tribute to the seniors who have helped build our country and continue to make valuable contributions to our communities, workplaces and families," according to Alice Wong, Minister of State for Seniors. While she encourages Canadian retirement communities to fill the day with light-hearted celebrations, the event is a serious part of Wong's larger focus on reducing social isolation and depression among the elderly population.
10 Ways to Celebrate National Seniors Day in Canada
Here are some ways you can take advantage of the reminder to reach out to seniors in your life on National Seniors Day:
1. Spend Time with a Senior
You might arrange to bring a meal to an elderly loved ones, have coffee with a retired neighbor, visit an acquaintance in the hospital, or just take the time to stop and make conversation during your daily errands. If possible, spend the type of focused, one-on-one time that will allow you to ask people meaningful questions about themselves.
2. Call a Grandparent or Elder
Texting, email and social media have all become primary channels of communication, but even if your grandparents spend more time on Facebook than you do, they would probably be happily surprised by, and appreciate, a phone call, especially once they realize you're calling just to chat.
3. Learn a Recipe From a Senior
Do you need specific help with your technique in making a particular family delicacy? That could make the perfect opportunity for your grandmother or great aunt to give you a tutorial. Even if not, discussing favorite recipes and food-related memories can be a fun way to get to know anyone better, even friends and family members. What did your grandma's parents make for weeknight dinners and special celebrations? What were her favorite foods as a child? Now is the time to find out.
4. Help a Senior with a Daily Chore
From walking your neighbor's dog to driving your grandfather to his doctor's appointment, to raking leaves in a special someone's yard — life is full of easy opportunities to pitch in and lend a helping hand. If you're worried about being overly intrusive, keep it simple and breezy — call your elderly neighbor on your way to the grocery store and ask her if she needs anything or if she'd like to come with you.
5. Visit or Volunteer at a Senior Centre
Contrary to what you might expect, there are plenty of ways you can help out, even on a one-time basis. Whether you want to host a game night, lead a workshop, or just spend a few hours helping with simple administrative tasks, the regular staff is sure to welcome your participation.
6. Look Through Photo Albums with a Senior
If you're doing this with family, keep in mind that it might also be fun to ask what boxes of "out-takes" might be lying around. Or, you could ask to see your grandparents' yearbooks or wedding albums. You might be surprised at how much of your own family's photographic record you haven't seen.
7. Learn About Your Family's History
Using what you already know as a starting point, try asking specific questions about events. What made your grandfather choose to join the Navy? Why did your grandmother's family move from Toronto to Vancouver when she was in high school? Who taught your uncle to drive a car? Of course, if you have a genealogy buff in the family, it can be fun to learn about your ancestors, too.
8. Play a Game with Your Grandparents
A little friendly competition and mental exercise is good for everyone. If you don't have several family favorites to choose from, you could have your grandparents teach you their favorite card game, then teach them yours.
9. Watch an Old Family Film
Or, be really brave and get out the slide projector. See if you can review a dozen or so versions of Christmas morning or annual summer beach trips in chronological order.
10. Thank a Senior Who has Made a Difference in Your Life
It can be surprisingly hard to say "thank you," especially when you suspect that the recipient of your thanks may feel awkward about receiving it, or not know how to respond. However, it's important to recognize the people who have genuinely helped you make the best of yourself. A sincere, hand-written note is likely to be treasured, especially if you avoid generalities like "thank you for all you've done for me," in favor detailing specific actions and they effect they had on you.
Spread the Love
Feeling inspired? Share these helpful tips so others can celebrate the special seniors in their lives!
What are your favorite ways to show appreciation for the seniors in your life? How do you celebrate National Seniors Day? Share your story in the comments below.
Related Articles: