Extreme cold weather alerts are active in some parts of Canada. The well below freezing temperatures present unique hazards for seniors as well as a higher risk of social isolation.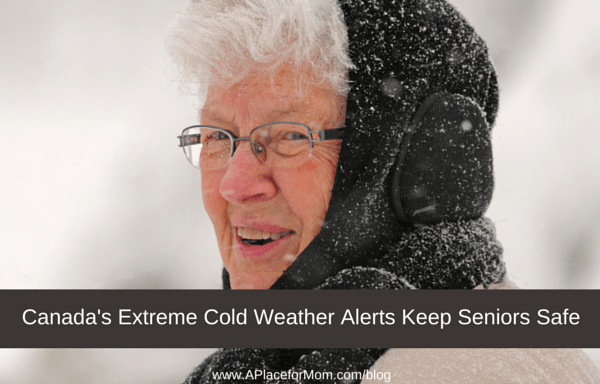 Learn what an extreme cold alert really means, how it can affect seniors and what to do if you see someone who is struggling in the cold weather.
What Is An Extreme Cold Weather Alert?
An extreme cold weather alert has been issued in Toronto and other areas of Canada. The exact criteria to trigger an extreme cold weather alert differs across the country but ranges from -55 C to -30 C. Warnings are issued if actual temperature or windchill falls below the set temperature for three consecutive hours.
With temperatures in the greater Toronto area expected to be -10 C and with a windchill at -27 C, the extreme cold weather alert will bring extra services for vulnerable populations. Members of the public are being asked to call 311 if they see or know someone who may be in need of shelter and heat during the extreme cold alert. 
Alerts are currently active (as of January 17) in areas of New Brunswick, Newfoundland and Labrador, Nunavut, Quebec and the greater Toronto area. 
Additional Dangers for Seniors in Extreme Cold Weather
Winter weather and extreme cold can bring health hazards for seniors. Winter weather can increase the incidence of falls, driving accidents when road conditions are poor, as well as hypothermia and frostbite. Keep your loved one inside with company as much as possible and be sure to clear any ice to keep them from falling.
In addition to the dangers from the weather itself, winter means flu season, which seniors and those with weakened immune systems are at risk of. The flu can then lead to secondary infections, which cause a significant number of senior deaths each year. 
The shorter and gray days can also bring health issues including Seasonal Affective Disorder (SAD) or "the Wintertime Blues" which is a decrease in mood or energy during the winter months. Seniors with Alzheimer's disease have an increased risk for sundowners syndrome, which can be made worse by the low-light conditions of winter which can disrupt the circadian rhythm. 
When the weather is as cold as it is expected to be in Canada, people are less likely to visit senior loved ones, which can lead to social isolation. A study from the University of Chicago found that feelings of extreme loneliness can increase an older person's chance of dying by as much as 14%. If a loved one feels lonely and isolated during the alert, try to arrange safe transportation to stay with them and keep them company or reach out to their neighbors. If you cannot be with them, a local service may be able to check in on them. 
How do you keep a loved one safe in winter weather? Do you have any tips for us? Share your thoughts in the comments below. 
Related Articles: