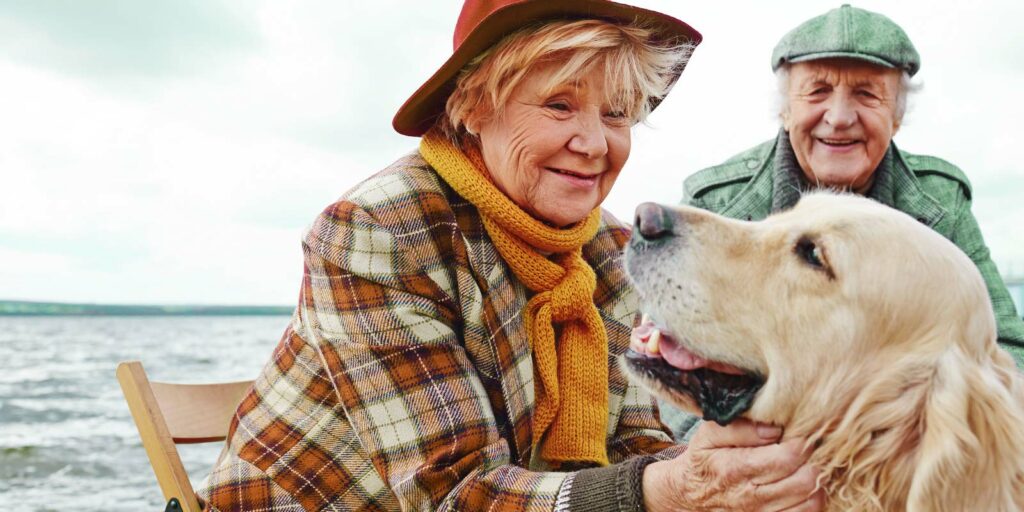 One in three seniors are lonely according to data from the latest National Poll on Healthy Aging. While loneliness may be a normal part of the aging process for many seniors, studies show that chronic loneliness has the potential to negatively impact health, including an increased risk of heart attack, stroke, depression and early death.
For family and caregivers, it can be hard to watch a loved one battle the challenges of loneliness as they age. But there are many ways to help lonely seniors overcome social isolation and instill a sense of companionship and emotional connection.
One proven way to battle the blues is through interaction with animals. It's no secret that pets can provide unconditional love – they also help seniors maintain a happy, balanced life.
In fact, in a study of pet owners ages 50 to 80:
88% said their pets help them enjoy life.
86% said their pets make them feel loved.
79% said their pets help reduce stress.
For more information on the benefits pets can have in the lives of their senior owners, keep reading or click on a section below to jump to it.
Table of Contents
The Benefits of Animal Interaction for Seniors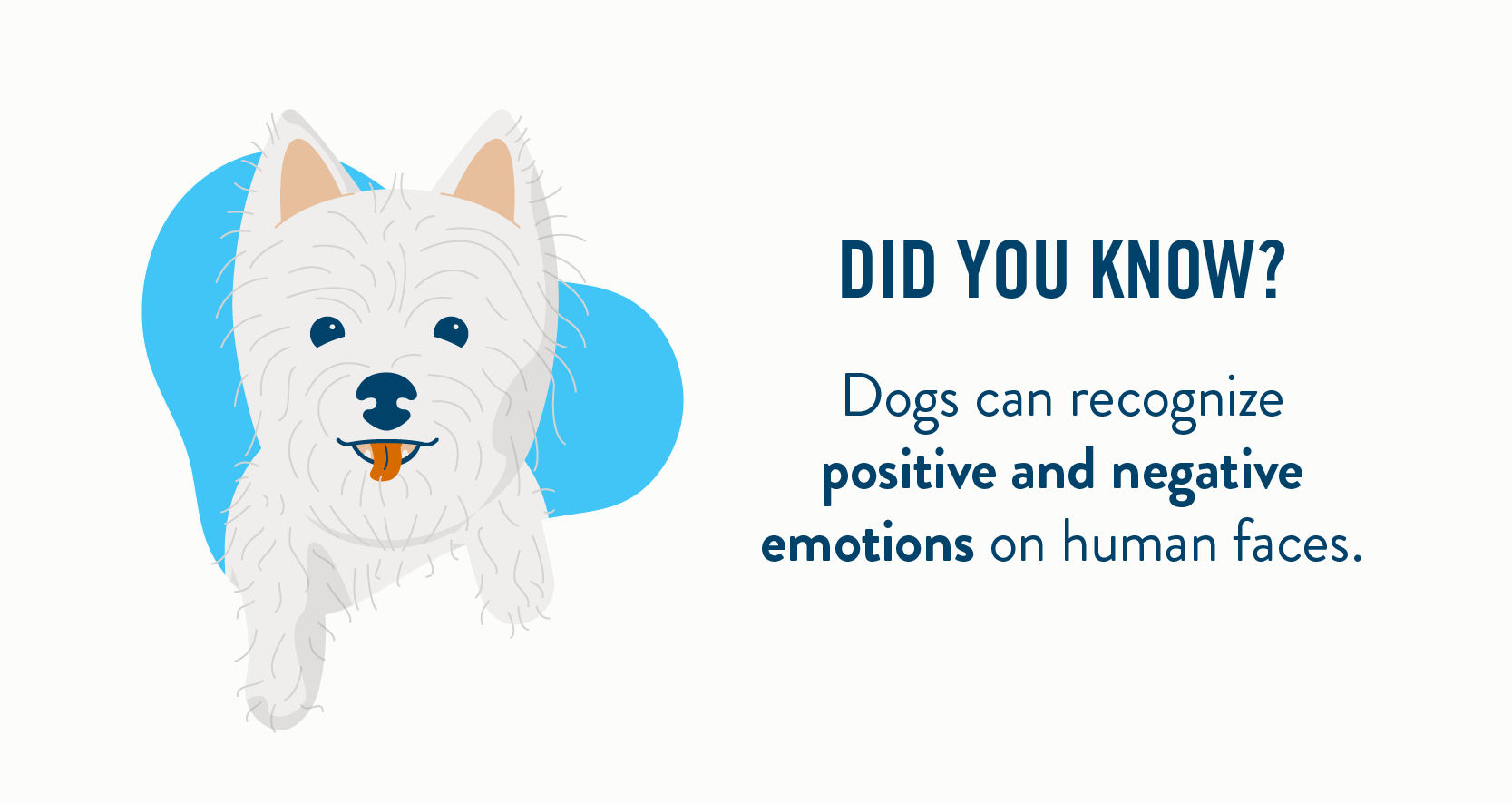 Pets are wonderful companions, but did you know they come with surprising benefits for a senior's health? From cardiovascular health to mental and emotional well-being, pets can have a dramatic impact on a senior's quality of life.
Physical Benefits
Pets can be incredibly beneficial for physical health, from cardiovascular function to bone health. Many studies have found strong correlations between animal interaction and an improvement in physical health, including healthier blood pressure and improved mobility.
Here are a few ways pets can help improve a senior's physical health:
Lower blood pressure –– The American Heart Association found that pet-owning seniors have lower blood pressure and experience smaller fluctuations in heart rate than non-pet owners.
Longer life –– According to a study of people aged 40–80 living alone, the risk of death was 33% lower for dog owners than people without dogs.
Improved mobility –– Regularly walking a dog is associated with lower body mass index and obesity rates, fewer doctor visits and more frequent urges to exercise.
Heart attack recovery –– For seniors who have experienced a heart attack, owning a dog or cat has been shown to improve recovery rates.
Pain relief –– A study from Loyola University found that seniors in pet therapy during surgery recovery needed significantly less medication for pain than those who did not use pet therapy during recovery.
Mental and Emotional Benefits
For seniors living with Alzheimer's and dementia, depression is a common result of the social isolation they may experience. Animals, particularly emotional support animals, have been found to help alleviate this loneliness and offer significant mental and emotional support.
Here are some of the ways pets help improve mental and emotional well-being:
Reduced loneliness –– With 40% of seniors reporting that they experience loneliness on a regular basis, a companion animal or pet can be a great comfort.
Less stress –– Having pets nearby has been shown to significantly reduce stress levels when performing difficult tasks. In fact, even thinking about a pet has a positive effect on stress.
Dementia and Alzheimer's –– Pets have been shown to reduce the agitation and stress that results from dementia and Alzheimer's, and can even help seniors feel more comfortable when interacting socially.
Confidence boost –– A study from Miami University found that pet owners have higher self-esteem than non-pet owners.
Social interaction –– Pets, especially dogs, have been found to be excellent facilitators for social interaction, new friendships and conversations with others outside the home.
The Responsibilities of Owning a Pet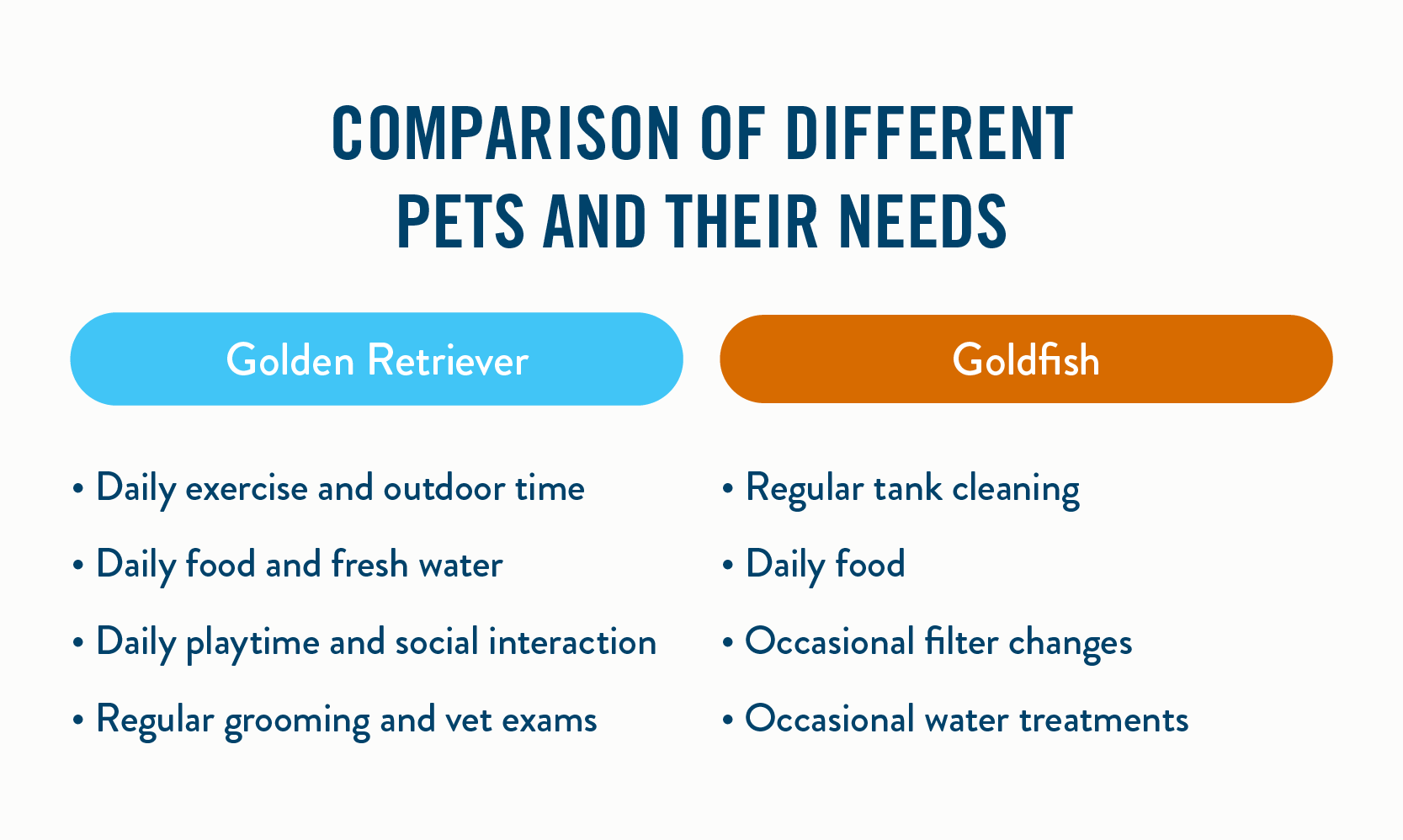 From the time we're young, we're taught that owning a pet comes with great responsibility. For seniors, it's important to remember that while pets make great companions, they need appropriate care and attention to be happy and healthy.
Consider the needs of the animal, the health of the senior and financial obligations before bringing home a new pet.
Daily Needs of Pets
From a full dish of food to vet visits and nail trimming, pets have needs that must be met regularly. Before adopting, consider whether a senior will be able to meet the requirements of a particular pet.
Needs of a dog: 
Daily exercise and outdoor time
Daily food and fresh water
Daily playtime and social interaction
Regular grooming and nail trimming
Routine veterinary exams
Occasional flea and tick control
Needs of a cat: 
Daily food and fresh water
Daily playtime and social interaction
Daily litter box cleaning
Regular grooming and nail trimming
Routine veterinary exams
Occasional flea and tick control
Needs of a bird: 
Daily food and fresh water
Weekly cage cleaning
Regular nail trimming
Routine veterinary exams
Needs of a fish or aquarium: 
Daily food
Regular tank cleaning
Occasional filter changes
Occasional water treatments
There are plenty of other pets available, including small mammals like rabbits, hamsters, rats and ferrets. There are also more exotic pets like pigs, horses, sugar gliders and goats. If you think the senior you're shopping for would be more interested in one of these furry friends, it's important to consult a vet first. They will be able to help you decide if this type of pet is right for the senior.
Financial Obligations of Pet Ownership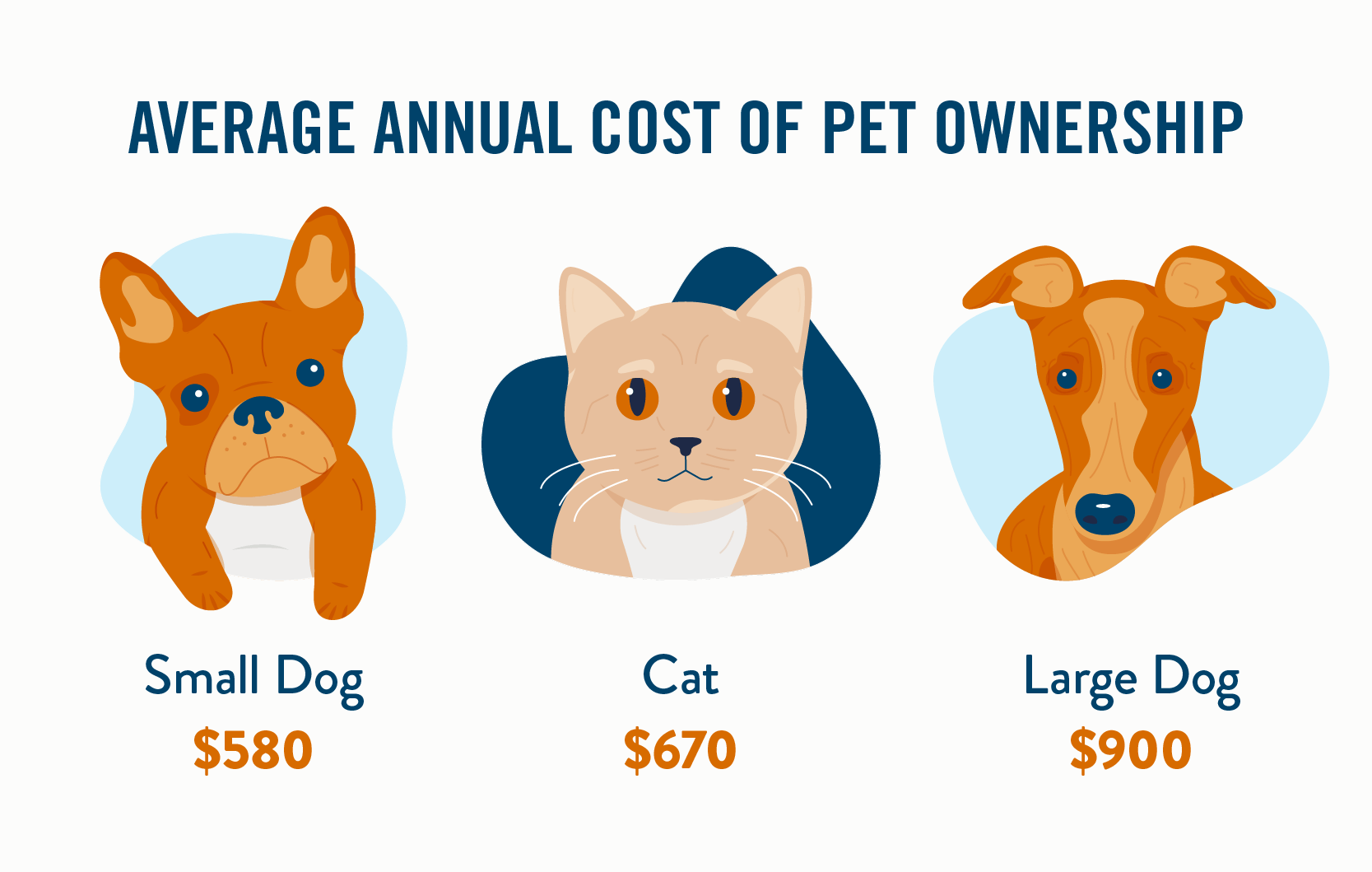 Wagging tails aside, pets are a serious investment. From food to vet bills, taking on responsibility for a pet comes with financial obligations.
Below are possible expenses for adoption and ownership, along with cost estimates:
Initial expenses for pet adoption: 
Adoption fees ($0–125)
Spaying or neutering ($30–300)
Supplies ($15–100)
Vaccinations and medication ($50–200)
Ongoing expenses for pet ownership:
Food ($10–50)
Toys and treats ($5–25)
Health care ($25–60)
Grooming ($25–100)
Veterinary appointments ($50–100)
Monthly apartment fees ($10–25 per pet)
Questions to Ask Before Bringing Home a Pet
Before adopting, it's important to be sure the senior can properly care for the pet. Whether you have a specific pet in mind or haven't started looking, consider these questions before bringing home a fluffy friend.
Does the senior's living arrangement allow for pets?
What kind of care will the pet need from the senior?
Will the pet compromise the senior's health?
Does the pet's personality match the senior's?
Is the pet house-trained?
Will there be a plan for the pet's care if it outlives the senior?
What to Do If You Need to Rehome a Pet
There are some situations that require pets to be rehomed. Sometimes pets can outlive their senior owners, especially if adopted as a puppy or kitten. Additionally, a hospitalization or living transition for the senior could leave a pet needing a new home.
If you find yourself needing to find a new home for a senior's pet, it's important to take appropriate steps to keep the pet safe and comfortable during the transition.
Before rehoming the pet: 
Make sure there are no pre-established contingency plans for the pet in a will.
Ask trusted friends and family if they would be willing to adopt the pet.
Consider using a professional pet matching service that can help you rehome the pet.
While it may be tempting to simply post a photo of the pet to social networks or online communities like Craigslist, many animals advertised via these platforms have been abused or neglected after being rehomed. A professional pet matching community or no-kill shelter can help you responsibly and humanely find a new, loving home for the pet.
Pet Estate Planning
If end-of-life planning is on a senior's list of to-dos, it can be helpful to include any pets in the planning process. Pet estate planning involves adding family pets to a will to ensure they continue to receive care from a trusted source after the death of the owner.
Here are the basic steps needed to plan for a pet's care after the senior's death:
Appoint a trusted caretaker and a backup.
Write down expectations for the pet's care.
Write down information about the pet's care, including health information.
Establish a fund to cover expenses for the pet's continued care.
Create a trust fund for the pet with a trustee to administer expenses.
How to Choose the Right Pet for a Senior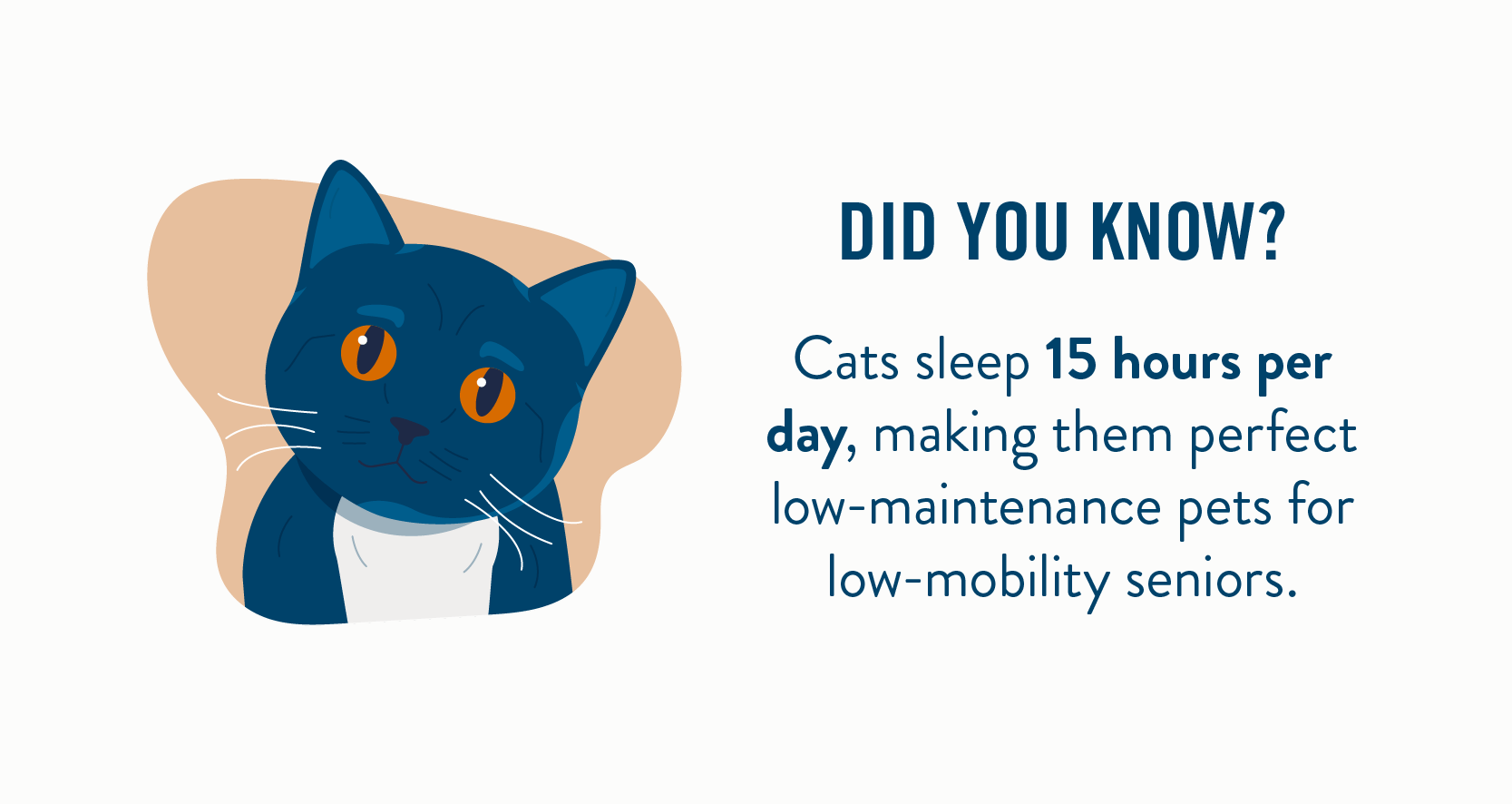 If you think a furry friend could be the perfect companion for a senior you know, it's important to choose the right kind of pet. Matching a senior with the right pet is simple if you know what to look for. Whether you bring home a cat, dog or cockatoo, keep in mind the senior's health needs and mobility, financial concerns and personality when choosing an animal companion.
Personality
Just like people, every animal has a unique personality. When choosing a pet, match up the pet's personality with the senior's. If the senior you are pet shopping for wants a friend for daily walks and exercise, a more outgoing, energetic dog might be the perfect companion. On the other hand, a mellow lapdog or cat makes for a great cuddle buddy and is especially suitable for low-mobility seniors.
It can also be helpful to have the senior and pet interact before finalizing an adoption. Ask the shelter or breeder if they offer meet-and-greet appointments to introduce senior and pet.
Age
Young animals like puppies and kittens tend to be high-energy, playful pets that require more attention and physical activity than a senior can give. In fact, energetic or small pets could be dangerous for seniors. According to the CDC, more than 86,000 people visit emergency rooms each year after falling while caring for a pet.
Adopting an older pet comes with several great benefits. First, adult pets have usually been house or litter box trained and may even know some fun tricks. They also tend to have fully developed personalities, making it easier to match them with an owner.
Care
Different animals have different needs. Before bringing home a new friend, consider how involved a senior will be in daily care of a pet. If the senior has low mobility or energy, a low-involvement pet like a bird or fish may be best. More energetic and outgoing seniors may enjoy caring for a dog or cat.
Where to Find the Right Pet for a Senior
How and where you search for a pet plays a big role in finding the right fit. While a certified breeder has a good knowledge of an individual pet's lineage and behavior, most breeders specialize in young animals like puppies and kittens.
A shelter can be a great place to find the perfect pet, but it can be challenging to know what you're getting before you bring Fluffy home. Luckily, there are matching services available that can set you up with the perfect animal for you or the senior you're shopping for.
Here are some resources to help you find the perfect pet for a senior you know:
Service Dogs and Emotional Support Animals for Seniors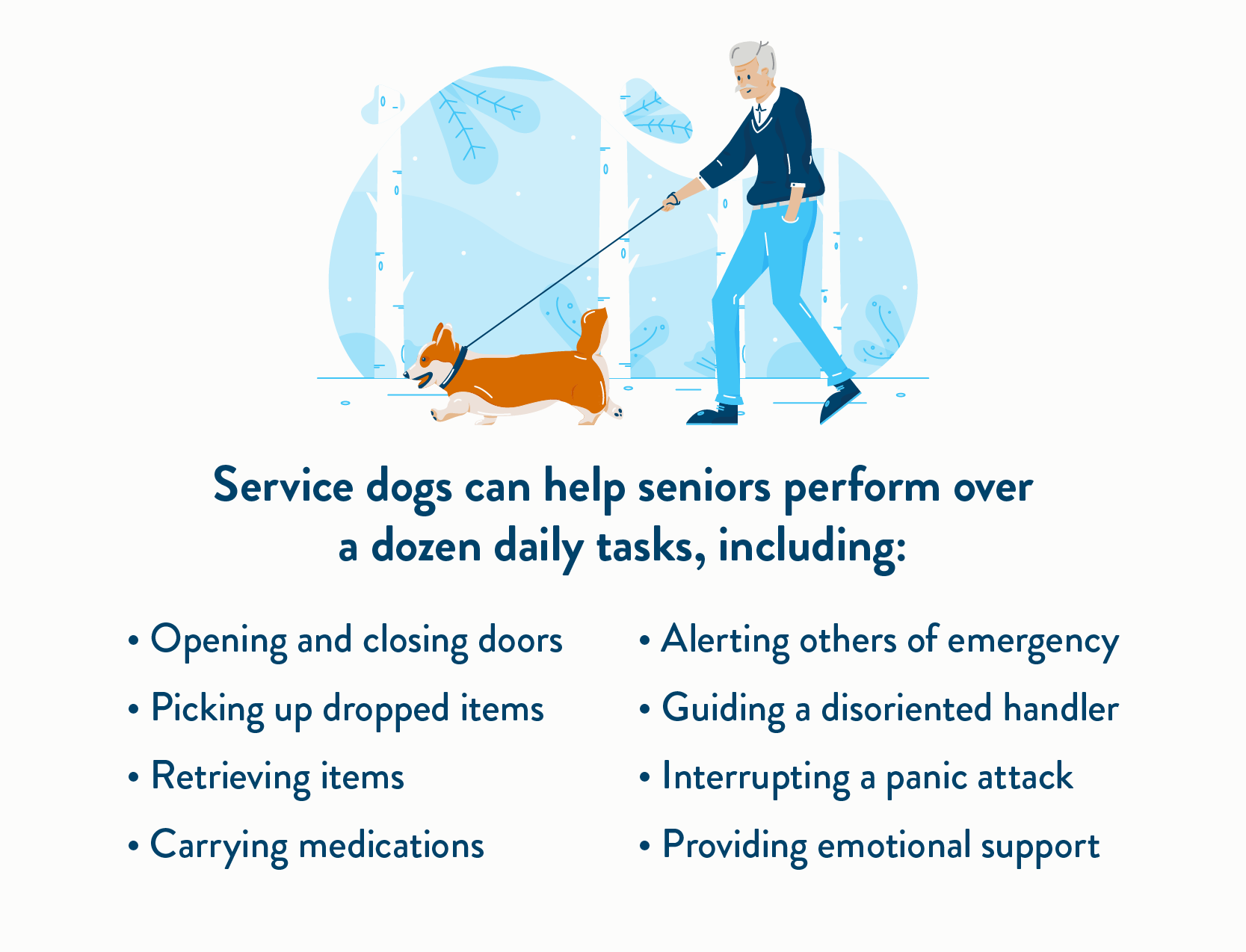 Service and therapy dogs can be great companions for seniors, especially if they are veterans or have physical impairments.
Dogs offer support for seniors experiencing a variety of health concerns, including physical, mental and emotional challenges. Service dogs can be trained to help seniors open doors, pick up dropped items and even balance while standing and walking.
They also serve as companions for seniors living with Alzheimer's Disease and dementia. In fact, one study found that spending time with therapy dogs increased the ability to recall memories and feelings for people with Alzheimer's.
You can also register a current pet to be an emotional support animal (ESA). Emotional support animals are allowed in "no pets" housing, cannot be discriminated against on the basis of breed or weight and can accompany seniors to public places like stores, movie theaters and even on airplanes. This can be a great comfort to seniors living with anxiety, depression or other health conditions.
There are many organizations that offer ESA registration services:
Pet Therapy as an Alternative to Ownership
Pet therapy is a great way for seniors to connect with animals in a meaningful way without the responsibility of ownership. Seniors who utilize pet therapy are free to benefit from the calming presence of pets without worrying about their care.
From retirement living centers to hospice and even a senior's own home, pet therapy is available in many settings. There are also independent services that offer animal therapy. For example, Therapy Dogs International offers home visits. While dogs are the most common therapy pets, cats, birds and even farm animals can serve as wonderful therapeutic companions and are used across the United States in professional therapy sessions.
Check out the infographic below to learn more about pets and pet ownership for seniors.


Pets are a great way to combat feelings of loneliness and isolation many seniors feel. They can help alleviate symptoms of depression and anxiety and have even been found to reduce physical health issues like high blood pressure and cholesterol.
If you think a pet could make a great companion for a senior you know, it can be helpful to ask their permission before bringing home a furry friend. If surprises are right up their alley, be sure the pet is healthy before introducing it to the home.
If the senior lives in an assisted living community or other similar living arrangement, be sure to check with the community before bringing a pet home. If the community has a no-pet policy, outside pet therapy could be a great option for the senior.
Sources
NCBI | American Heart Association 1, 2 | Animal Planet | Science Daily | Washington Post | Scientific American | Bright Focus | Habri Central | Journal of Personality and Social Psychology | ASPCA | PawsLikeMe | Psychiatry | Harvard | Pets for the Elderly | Cleveland Clinic | Vet Street | Poet's Walk | Aging Care | Time 1, 2, 3 | South Boston Animal Hospital | The Dodo | Pets for Patriots | Anything Pawsable | Reuters