For seniors who choose a university-based retirement community, lifelong learning is more than just a turn of phrase — it's a way of life. Learn more about seniors who head back to school to live at university-based retirement communities.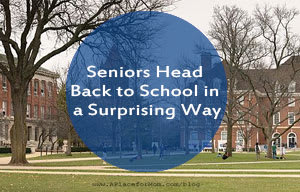 It's back-to-school season, and many households are watching their children return to the classroom with the usual mixture of anticipation and trepidation. But, in some families, grandma and grandpa are heading back into the classroom, too, as perpetual students. Where can you find this new "senior class?" Look to your closest university-based retirement community, or UBRC, an increasingly popular form of assisted living that puts seniors back on campus and immerses them in the college community while still offering a continuum of care for residents as they age. The result? True lifelong learning.
The Benefits of University Based Retirement Communities
The term "university-based retirement community" was coined in 2006 by Andrew Carle, founder of George Mason University's program in senior housing administration. Though UBRCs may vary in the strength of their affiliation with a university, their connection with the school keeps senior residents physically and mentally active, with opportunities for recreation, fitness, education and other benefits of being part of an academic community.
Talk with a Senior Living Advisor
Our advisors help 300,000 families each year find the right senior care for their loved ones.
A recent report by PBS NewsHour estimated that there are currently around 100 UBRCs, but as the baby boomer generation retires and starts looking for more variety in their senior housing, the market is expected to grow. Carle says today's seniors are looking for something different from their leisure-seeking, golf-playing forbears:
"They want active, they want intellectually stimulating, and they want intergenerational retirement environments."
Niche senior living communities like UBRCs offer many of those benefits. Besides the health care services offered as part of the senior housing component, many UBRCs give residents access to campus fitness centers, athletic events, and, in cases like Stanford's Vi at Palo Alto, a partnership with a world-famous teaching hospital. As far as intellectual stimulation goes, the perks are obvious — the majority of UBRCs enable residents to enroll in or audit college classes, and it's been proven time and again that keeping mentally active through lifelong learning can stave off dementia. Not only that, but hanging with college-aged youth just might keep seniors mentally young and vibrant too.
What Makes University Based Retirement Communities Different?
UBRC retirement communities are obviously much more than just run-of-the-mill senior housing, and you can't simply define them as any senior community affiliated with or located near a university. In fact, you'll be hard pressed to find two UBRCs that are exactly the same, but Carle lists five criteria that, in his experience, contribute to a successful UBRC from the perspective of residents, the university, and the senior housing provider:
Proximity to the campus itself

Formalized programming between the university and the community, encouraging intergenerational diversity and a range of activities

Full senior housing services offering a continuum of care, from independent to assisted living

A strong alumni base, with at least 10% of the community being alumni, former faculty, or former employees of the university

Sound financial planning, with a documented financial relationship between the senior housing provider and the university
On the Honor Roll: Top University Based Retirement Communities List
Here's a sampling of what some of the best-known UBRCs offer residents:
1. Kendal at Hanover: Dartmouth College, Hanover, NH

Besides offering four senior living options, from independent living to memory care, Kendal at Hanover residents are able to take full length and mini-courses at Dartmouth College's Institute for Lifelong Education at Dartmouth (ILEAD). The community also works with the Dartmouth-Hitchcock Medical Center to host an on-site clinic for residents.
2. Mary's Woods at Marylhurst: Marylhurst University, Lake Oswego, OR
Though it's in an idyllic forest setting, don't be fooled — this UBRC offers residents WiFi, free computer classes, a complimentary iPad on move-in and steep discounts on tuition for classes at neighboring Marylhurst University.
3. Holy Cross Village at Notre Dame: Holy Cross College, Notre Dame, IN
Just 1,000 feet from the university, Holy Cross Village residents have access to the college library, fitness center and athletic events, as well as being able to audit classes at Holy Cross College and St. Mary's College. Residents participate in a quarterly lecture series, help with international student programs and have other close ties to campus life.
4. Lasell Village: Lasell College, Newton, MA
Lasell Village doesn't just offer the opportunity to take college classes — its residents are required to complete 450 hours of learning and fitness activity a year, either inside or outside the classroom. There's even an academic dean just for residents, and every building at the retirement community has a classroom, studio, library or fitness facility. It's no surprise that Lasell Village itself is zoned as an educational institution.
5. Oak Hammock at the University of Florida: University of Florida, Gainesville, FL
This UBRC was featured in the PBS NewsHour report for its unique Institute for Learning in Retirement, hosted at the community and offering classes for people over the age of 55 to people throughout the Gainesville area, not just residents of Oak Hammock. Classes are taught by current and retired University of Florida professors, as well as retired faculty from other institutions. Of course, residents can also audit University of Florida classes for free.
List of UBRCs
Would you consider a university-based retirement community for yourself or a loved one? Share your thoughts with us in the comments below.
Related Articles: