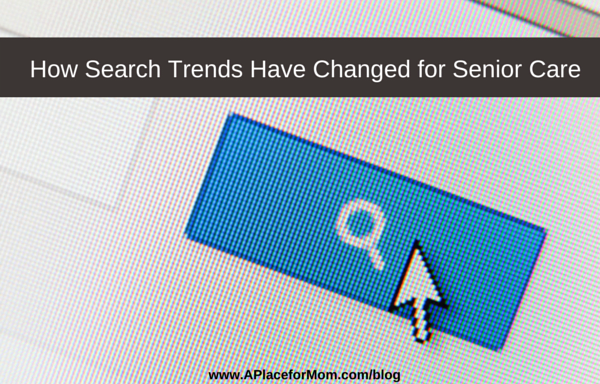 "In 2014 we searched trillions of times. What do these searches say about us?" asks the online search giant Google in their publication of
2014: A Year in Search
. Popular searches of 2014 ranged from the queries regarding improbable scientific triumph of
landing of a space probe on a comet
, to the sad and mysterious
disappearance of Malaysia Air Flight 370
. You can tell a lot about society by what people search for online and the keywords that they use in those searches, and this truth extends to the realm of senior living.
As it becomes more and more common to start one's senior care search by typing words into a search engine, we want to stay abreast of how people are searching. Some questions we want to know include:
What do families search for online when they want to find senior care for their loved one?

How has their search behavior evolved over time?

A Place for Mom has previously noted that families' growing recognition that "nursing homes" is no longer a catch-all term for senior housing. Has this trend continued in the past couple of years since we first reported it?
Senior Care Search Trends in 2014
Our friends over at Google have a couple of handy tools to dive into these questions. These tools are limited to Google searches, and thus don't offer an internet-wide view of trends. That said, Google's data is the best available proxy to determine how people behave online.
Google Trends allows us to see a time series of how searches for particular keywords have changed over time. Looking at three major care types in the United States gives us the following graph:
There are a couple of interesting items to note about this chart:
Assisted living is a much more common search term compared to nursing homes and senior living.
Senior living as a search term has risen significantly in recent years. If you look carefully, you'll notice that senior living has jumped up two gridlines. That means the frequency of senior living searches has tripled in the past 10 years relative to the other care types.
Fewer and fewer people are searching for nursing homes over time. We originally reported this trend in June 2012, and it has continued since. As people become more educated about different care types, more people realize that nursing homes are not the correct type of care they seek for their loved one.
Google Trends unfortunately only allows you to search for keyword trends over the past 10 years. What happened before 2004?
Well, a lot fewer people were using the internet back then. To see the broader evolution of different types of senior care, we can turn to books. Searching the frequency of major senior care types appearing in books indexed by Google over a longer time horizon gives us the following graph:
From this view, it looks like assisted living has grown from a standing start 25 years ago. At the same time nursing homes has become consistently less common in published books, and has been surpassed by assisted living. Senior living has also grown, but its growth is a lot less pronounced compared to assisted living.
There are many different types of senior care. So far, we have only discussed three of the most commonly searched terms. What about less common terms?
The Evolving Lexicon of Senior Living
We also looked at skilled nursing, senior home care, memory care and independent living. Looking back up at the graph above, senior living is the lowest of the three lines. We included it in the following graph to give you a sense of perspective of how much less common these four other terms are:
These four other terms are searched a lot less frequently than senior living. Skilled nursing is the most commonly searched of the four terms in the past couple of years. Even that is searched three or four times less frequently than senior living.
It is not easy to see how skilled nursing, senior housing, memory care and independent living are trending since the senior living line spans so much of the graph. We re-pulled the data without senior living to get a better view.
Increasingly Informed Consumers
This graph shows a couple of interesting trends:
The frequency of skilled nursing, senior housing and memory care searches have all increased in the past 10 years. Searches for each of these terms have increased at least 2x in over that period of time.

Searching for memory care has really taken off in the past two or three years.

One might assume that these terms are increasing simply because more and more people are seeking senior care. However, the flat or declining trend of independent living searches suggests that the situation is more complicated than that.
Those of us who work in the senior care industry are well aware of the many different levels of senior care. We have fought the public perception that all senior care can be collectively referred to as nursing homes. Based on this new data, it appears that this is a battle that is gradually being won and the public is becoming more educated about different senior living options that are available.
Do you have questions about your senior living options? Please share them in the comments below. 
Related Articles: