The mistreatment and neglect of seniors continues to be a widespread problem, but we can take action and be part of the solution to elder abuse.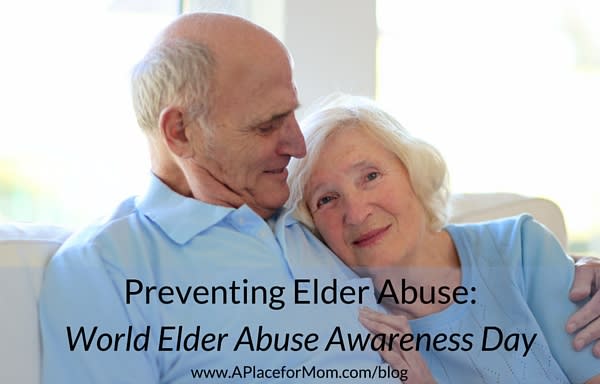 Learn more about preventing elder abuse on World Elder Abuse Awareness Day.
Elder Abuse Awareness
At A Place for Mom, finding the right care for you, your family and loved ones is our priority.
Sadly, in many senior communities around the world, elder abuse and mistreatment is a problem. This abuse, financial exploitation and neglect affect hundreds of thousands of seniors worldwide and this takes a toll on the economic, mental and physical well-being of our elders.
A study in the American Journal of Public Health estimated that 11% of American seniors had experienced some form of abuse or neglect over the previous year. However, this does not include seniors with dementia or those in long-term care facilities. In addition, the National Elder Abuse Incidence Study estimates that just 1 in 14 cases of elder abuse are actually reported to the authorities.
In order to combat the incidence of senior mistreatment — and increase public awareness and reporting of the problem — World Elder Abuse Awareness Day is observed every June 15.
What is World Elder Abuse Awareness Day?
On June 15, 2006, the International Network for the Prevention of Elder Abuse and the World Health Organization at the United Nations launched World Elder Abuse Awareness Day (WEAAD) as an annual call to action for individuals, organizations and communities concerned with senior rights.
As quoted by the National Center on Elder Abuse, "The purpose of WEAAD is to provide an opportunity for communities around the world to promote a better understanding of abuse and neglect of older persons by raising awareness of the cultural, social, economic and demographic processes affecting elder abuse and neglect."
On WEAAD, this year and every year, communities are encouraged to hold events and fundraisers, and individuals are urged to volunteer for organizations that benefit seniors. Even a simple visit to an senior neighbor, friend or family member who lives alone can be empowering and encouraging — and it's a concrete way to help with preventing elder abuse.
The CDC's Forum on Violence Protection
CDC developed VetoViolence.cdc.gov to provide grantees and partners with an innovative portal for training and resources to bridge the gap between science and practice, and focus on stopping violence before it starts. They've set up a VetoViolence Facebook Page that is dedicated to sharing information and resources, and where they host "Ask the Expert" Facebook forums on a focused violence prevention topic.
"1 in 10 elders reported emotional, physical, or sexual mistreatment or potential neglect in the previous year," reports the CDC.
Some ways to protect elders from abuse and neglect include:
Coordinating resources and services among organizations that serve the elderly population

Having several strong relationships

Having strong sense of community
Leading up to World Elder Abuse Awareness Day on June 15, the CDC, with co-sponsor National Center on Elder Abuse, will lead the forum discussion on elder abuse.
Mary Twomey, Co-Director at National Center on Elder Abuse at University of California, Irvine shares:
"World Elder Abuse Awareness Day provides an opportunity for people to learn more about abuse and neglect of older Americans. Research shows that as many as 1 in 10 seniors are abused, neglected or financially exploited. Everyone needs to learn more about warning signs of elder abuse and what each person can do to prevent it or report it to Adult Protective Services if they suspect it. For more information on elder abuse visit the National Center on Elder Abuse at: "https://ncea.acl.gov/."
Recognizing the Signs of Elder Abuse
One important step toward preventing elder abuse in our communities is by knowing how to recognize the signs that a senior is being mistreated or exploited. The National Center on Elder Abuse has a downloadable fact sheet on recognizing the red flags of various types of abuse or neglect; here are just a few warning signs:
If you suspect elder abuse, the Administration on Aging recommends contacting your state's Adult Protective Services Agency, or, if the person is in immediate danger, calling 911 or the local police. Suspected nursing home abuse should also be reported to the Long-Term Care Ombudsman.
Tips for Preventing Elder Abuse and Promoting Elder Rights
Despite all of this disheartening information, there are a number of things everyone can do to prevent elder abuse year round.
Get educated. Once you've learned to recognize the symptoms, it is much easier to report suspected mistreatment in a timely manner.
Help raise awareness. Talk about the issue, write letters to the editor or op-ed articles for your local paper, and take a stand against ageist stereotypes.
Reach out. Visit a senior who lives alone; invite them to an activity or ask them to teach you a new skill. Volunteer with a local elder abuse organization, senior center or a meal delivery service.
Stay alert. Keep in frequent contact with older neighbors, friends and family, and report suspected abuse to law enforcement or adult protective services.
What questions would you ask an expert on the topic of elder abuse? Be sure to join the conversation on the VetoViolence Facebook forum, and share your thoughts with us in the comments below. 
Related Articles: