Family trees help record history. Whether you are experienced or novice in trying to document your ancestry, it's easy to make an eye-catching family tree that tells your family's story in a unique way.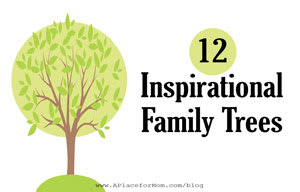 As parents and grandparents age, our family history tends to weigh more on our minds. Preserving that history in a family tree has become a popular pastime over recent years.
Create Your Family Tree
Websites like Ancestry.com, FamilySearch.org, FamilyTree.com, and others have helped pave the way for building family trees and discovering aspects of a family story that had been unknown.
Talk with a Senior Living Advisor
Our advisors help 300,000 families each year find the right senior care for their loved ones.
If you would like to create a family tree for yourself, as a Mother's Day gift or for another occasion, you have many resources for searching family records and crafting your family's story in a distinct way. Design your family tree online, or do it the old-fashioned way with pictures, paper, cut-outs and other ideas. Invite grandparents and children to participate in this activity, which will bring those generations together in so many ways.
Here are a few examples of family trees to help inspire your project:
Create a unique family tree by putting  family photos on display on a chalkboard that you can either hang in a room or take with you to a family reunion. Leigh Anne, the blogger at Your Homebased Mom, built this chalkboard using the frame of an old print coated with chalkboard paint, and a piece of masonite board that her husband cut to size. She then used a chalkboard pen to label and connect her ancestors together on her board and create the finished product.
Available from SimpleShapes, this standard size family tree decal is $150 and measures 107 inches wide by 90 inches high. You can customize the size and colors of the decal as needed to fit your personal preferences, where it is versatile enough to display anywhere in the home. You could put it in the family room, a nursery or another spot where you'd like to showcase your family history.
Creative and personal, Anji Johnson's family tree shows old family photos on plaques strung around branches of a tree made of twigs. You can build your family tree out of whatever materials suit you, and then frame it or attach it directly to the wall. Or, the reflection family tree could be displayed within a frame. Whichever way suits you, this tree will be sure to be a focal point in your home.
Canadian artist Evajuliet Atelier offers uniquely customized family trees with original illustrations. The Azalea Family Tree is one example of an intricate print in which you can show either ancestors or their descendants, in a very artistic style. Most illustrations focus on a family tree and it's branches, but can also be customized to focus on ancestors and their names.
Lisa Congdon has organized and pinned individual family photos to a wall using her own unique design. This design is a great way to display your family tree, and it's easy to expand a collection like this with each family birth, creating new family history.
What started as a Christmas card became a precious keepsake for the parents of Brooke Reynolds. To build this tree, Reynolds took profile pictures of family members and traced them in Illustrator to make silhouettes that she organized by generation.
Take a picture of your grandfather holding a picture of his son holding a picture of his son and so on as far as the generations go. Do the same with your grandmother. This generation photo frame is an eye-opening way to show off your family history.
From Martha Stewart, this family tree incorporates black and white photos into an argyle design on the wall. Oldest generations are placed across the middle with descendants represented on alternating sides of that line.
You do not have to be a graphic designer to create a sentimental work of art on your computer. Using Microsoft Word's WordArt feature, Laura Orr designed three different family trees. Download new fonts that suit your project and preserve your family history in whatever format looks best to you.
Sandra Saunders designed the Grandma's Hands quilt as a 60th birthday present for her mother-in-law. Family members traced their handprints on fabric. And a team of sewers at Saunders' house cut out and fashioned the handprints into a tree displayed on a quilt.
A twist on the family tree, the Family Tee kit, available from ShineKidsCrafts, comes with 10 t-shirt photo frames, 10 clips and string to hang up pictures of family members. Color the clips or add designs to the frames for a personal touch.
PrintFunFactory's do-it-yourself family tree, priced at $3.49, includes two zip files that you download directly to your computer. Print the family tree template and labels on standard paper, card stock or photo paper. Create your tree as a gift, for a scrapbook or as part of another project.
Build Your Family History
However you build your family tree, displaying that history for children, grandchildren and other family members will surely make an impact and start many conversations. You can make this project as simple or as complex as you like and involve as many family members as you want. Who knows, your work of art may inspire future generations to keep up that family history for years to come.
Have you created a family tree? How did you do it? What resources did you use for gathering your family's history?
Related Articles: