No person or organization is perfect, but senior care providers have a sacred obligation, and are therefore held to the highest standards. Because the well-being of potentially fragile residents is at stake, assisted living communities strive for nothing short of perfection. Licensed providers use comprehensive processes, protocols and standards that promote the health and safety, residents and visitors.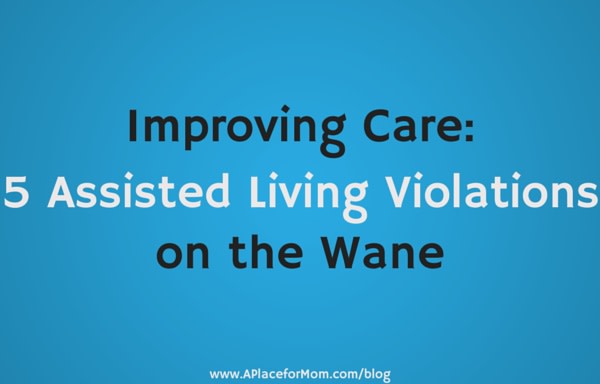 When an error does occur, wise communities will recognize and acknowledge it immediately, working to minimize its impact and to rectify shortcomings that may have led to the error. They also make sure to learn from any such occurrences to prevent them in the future. Accordingly, in many areas of assisted living administration and care, providers are having success improving care and reducing deficiencies.

A new report from theArgentum (formerly Assisted Living Federation of America – ALFA) highlights the most common deficiencies in assisted living. We recently revealed ten common assisted living violations in an article on our partner website, AssistedLiving.com. But the Argentum report also contains snippets of historic information on assisted living deficiencies that shed light on trends in care, compliance and regulatory enforcement. This historic data gives us insight into the facets of assisted living care that have most improved since Argentum's previous report.
Improving Care in Assisted Living
Here are five areas of assisted living care where the rate of compliance is on the rise, and deficiencies are declining.
1. Not attempting to provide a level of care beyond the scope of the communities' licensing.
Frequently, when seniors will move into assisted living communities, their needs progress with time. Sometimes they can progress to a level beyond which the provider is allowed to provide per its license. For example, a community that's licensed to house residents who are ambulatory and can exit the building unassisted could be cited for housing a resident who is, say, unable to get out of bed unassisted. Communities are doing a better job of helping residents who need higher levels of care to transition to a more appropriate provider. Between the 2013 and 2014 Argentum reports, there was a 25% improvement in this area nationally.
2. Improved adherence to admissions standards.
Communities must follow a strict process when accepting new residents. Communities must evaluate prospective residents to assure that the facility is able to care for anyone who moves in. They also must assure that residents have had TB tests and possess other documentation (which can vary state by state). Since last year's report, deficiencies involving resident admission requirements decreased 17%.
3. Safer and more secure storage of medications and hazardous materials.
State regulations state the medications must be appropriately secured, with extra requirements surrounding controlled substances. Similar standards exist for the storage of "hazardous materials," which includes items like cleaning products. An annual improvement of 10% was observed in this facet of regulatory compliance.
4. Better tracking of resident well-being.
Ongoing resident assessments are important because senior's needs change. It's vital for communities to be aware of a change in a resident's health status or level of functioning so that their care plan can be adjusted accordingly. Provider's efforts led to an 8% improvement in this area in the interval between the 2013 Argentum report and the 2014 report.
5. More thorough staff training.
Most states have requirements about training for assisted living caregiving staff. When a staff member misses an aspect of training, begins work before training is complete, or has a training certification that lapses, the employing provider is considered deficient by regulators. Nationally, a modest 5% improvement was seen in this area, year-over-year.
Indications of Increasing Transparency in Assisted Living Records
Last year, A Place for Mom released the State Guide to Assisted Living Records and Reports. We investigated the ease of which (or lack thereof) that consumers can find information about the records of assisted living communities. That is, we looked at how much access consumers have to inspections reports and the backgrounds of communities, documented deficiencies and violations.
The fact that Argentum was able to compile such lists for each state and the District of Columbia is a testament to the increasing access of assisted living records. For most states, Argentum was able to base their lists on documented, publicly available records of each deficiency type. This is evidence of growing transparency in the area of senior living oversite. 
Still, in some states Argentum  researchers had to rely on interviews with Administration of Aging officials to estimate to most common deficiencies. The Argentum report does not differentiate states where the lists were based on raw data as compared to interviews, but the fact some states were unable to provide actual data indicates many states still have room to improve the transparency of assisted living records.
Assisted living regulators do their best to assure assisted living care is up to standards, but in some states, inspectors are required to visit providers as infrequently as every two years.
That's why you should actively assure that a community you are considering for a loved one, or yourself, is up to the tasks. Our Assisted Living Residence Checklist can help you stay organized and ask the right questions to help you pick a safe and appropriate community free of issues the Argentum report highlights.
Related Articles: