If you or a loved one is over 62, you can purchase a low-cost Senior Pass granting lifetime access to thousands of national parks and recreation areas for free or at a substantial discount.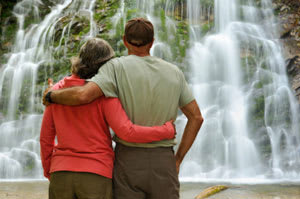 During a recent phone conversation with my mom, she raved about a recent trip she and my stepdad had taken to a regional hiking trail in the Coachella Valley. Not only had they had a wonderful day of walking around the scenic desert landscape, they were able to enter the park entirely free—thanks to a Senior Pass from the National Parks and Federal Recreational Lands Pass program.
The pass only costs $10 and grants senior citizens—and anyone else in their car—access to most national parks, forests, refuges and recreation areas for free. The Senior Pass even provides discounts for many campgrounds, tours and parking areas at Federal recreation sites.
Senior Living Gets a Breath of Fresh Air
It's well known that staying active and fit is an essential part of healthy aging. With many seniors—including my stepdad—exercise can help delay the onset and alleviate the symptoms of conditions such as diabetes. Exercise increases energy, improves mood and balance, and, according to the National Institute on Aging, it helps older adults maintain their independence as they age. A Senior Pass to national parks can help those with a love of the great outdoors get exercise and fresh air.
Talk with a Senior Living Advisor
Our advisors help 300,000 families each year find the right senior care for their loved ones.
Not only that, some seniors discover that as they get older, they have more time available to travel and sightsee. The Senior Park Pass makes it very easy to indulge some well-earned wanderlust. Imagine being able to tour the breathtaking stalactites of Carlsbad Caverns, New Mexico for half price, or enter the towering granite outcrops of Yosemite National Park entirely free of charge.
How to Purchase a Senior Park Pass
It's easy to buy a Senior Pass—you can either print and send in a mail-order application, available from the U.S. Geological Service website, or you can buy one in person at most Federal recreation sites or offices. At many major parks and sites, you can simply pay your $10 at the entrance gate and receive your lifetime pass right away.
The Senior Pass is available to U.S. citizens and permanent residents over the age of 62, and the discounts and benefits apply to any other passengers traveling with you in your car. So next time there's a family vacation in the works, why not consider a trip to some of America's scenic natural wonders? For more information, visit the Senior Pass page at the U.S. Geological Service website.