A Place for Mom is proud to announce the winning essays of our annual $1,000 scholarship for the advancement in the field of gerontology. 10 finalists were narrowed down to 5 winners whom are being awarded with a financial donation. Applicants were required to write a compelling essay about senior care innovation in preparing for America's "Silver Tsunami" of aging Baby Boomers.
Congratulations to Megan Zepp, 2014 Senior Care Innovation Scholarship Winner! We invite you to read Megan's essay below and comment with your thoughts.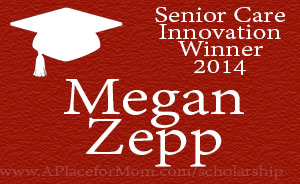 Megan's Essay
Alzheimer's disease is unlike any other disease. Its onset is silent, typically progressing over the course of 15 to 20 years before symptoms present. By the time even mild symptoms appear, brain cell damage and brain shrinkage due to plaques can be substantial. There is no cure and little insight into its etiology. The amyloid protein is thought to be responsible for the plaque buildup, but what sets this process into motion is not understood. There definitely is a genetic component to the early onset variety, and some 5% of patients worldwide are believed to suffer from a hereditary form.
Talk with a Senior Living Advisor
Our advisors help 300,000 families each year find the right senior care for their loved ones.
While these facts are disturbing, prevalence data is nothing short of shocking. The diagnosis of Alzheimer's disease is delivered once every 67 seconds in the United States. Among Americans age 65 and over, Alzheimer's affects 1 in 8 persons. This number increases substantially in the age 85+ group, where it affects 1 in 2.
Where Alzheimer's disease truly separates itself from all other maladies, however, is in its impact. Like all other major illnesses, the diagnosis is devastating to the individual and the person's loved ones. Unlike all others, Alzheimer's disease portends to be a major social issue with disastrous economic consequences for all of U.S. society. By 2050, the tsunami will come ashore, counting some 16 million affected individuals as victims. But beyond the human toll is an economic one. Estimates place the annual cost to care for these patients at $1 trillion annually. Society as a whole will face a crushing financial burden that could literally jeopardize the economy as a whole and place issues such as suicide or geronticide at the forefront.
With just 35 years separating us from this unwanted tomorrow, we still have the ability to stem the tide, while improving both our ability to care for affected individuals and their families and the quality of care we deliver to both. It will require a concerted effort on at least four major fronts: research, healthcare practice, resource development and finances.
Research
When it comes to research, we must invest in all promising avenues today. We must do so with the knowledge that whatever we spend now to understand the cause, identify preventive measures, and develop treatments and cures will pale in comparison to the healthcare costs that lie ahead.
We must fund research into the hereditary forms of the disease, knowing that if we can develop ways to prevent almost certain disease onset in these individuals, then our ability to prevent the disease in the larger population is enhanced. Currently, drug trials are in progress with families carrying various genetic forms that may help us identify a cure.
Pharmaceutical research should be encouraged, informed by the findings of current efforts and supported by enlightened individuals who, either while living or after death, willingly participate in trials or autopsies to advance the greater good. Of course, research also must focus on identifying better detection methods that can pick up the disease far earlier than at present.
Healthcare Practice
When it comes to healthcare practice, two issues are immediately apparent. First, the numbers of healthcare professional will be insufficient to deal with the coming onslaught. Second, treating afflicted elderly is not one of the "sexy" specialty areas that attract large numbers.
Thus, we must encourage entry into this healthcare profession practice area at all levels — physicians, researchers, therapists, nurses, nutritionists, environmental scientists, ecologists, nursing aides, etc. Incentives in the form of scholarships, tuition repayment programs and other efforts must be implemented.
However, sheer numbers are not an adequate solution. We must recruit individuals with the aptitude, desire and skills to care for this very special patient population. Alzheimer's is not just about memory loss. It's also about motor skill loss and behavioral and personality changes. Affected individuals can be physically and verbally abusive, uncooperative, moody, exhibit sundowning, and require total assistance with even the simplest activity of daily living. It takes a very special person not to take a patient's behavior personally and recognize the person's behavior is a disease manifestation, not a personal attack. Responding in kind or getting angry is never an option for a healthcare worker. Along these lines, aptitude and personality test development will be important.
Beyond fit with the specialty area, education will be vital. We will need to develop specialized educational tracks focused specifically on Alzheimer's and the dementias that convey all the knowledge amassed to date and touch on research directions being pursued. Knowledge is a prerequisite to understanding and treatment. Yet, understanding the disease is only the first step. Practitioners, especially those interacting daily with Alzheimer patients, must learn how to deal with the difficult situations that they will encounter through role modeling. When individuals have a skillset at the ready, they can act in appropriate ways to diffuse the situation or turn it around.
Within the practice arena, Alzheimer screening should comprise a covered component of routine physical examinations at age 40 or thereabouts to diagnose the diseases as soon as possible. In families carrying the disease, testing should start earlier.
Resource Development
The coming tsunami requires advance preparation specifically in the area of resource development. More physical facilities will be needed to house and properly care for individuals. So, building and designing residences integrating forward-thinking features will be critical. We need to move beyond merely containing people with keypads on doorways and elevators and incorporate features that take into account relevant features of the disease itself. If, for example, diminishing light and increasing shadows serve as cues that precipitate episodes of sundowning, then building designers should be contemplating ways to maintain exterior views but add architectural design features that counteract light-level changes and shadow formation. The possibilities are endless.
Society should not accept progression as a foregone conclusion — or wait for disease manifestation to occur before we begin to act. Public service announcements should encourage cognitive activities across the life span as an important means of slowing the process of mental decline. Neighborhood senior centers with organized activities that promote both cognitive and physical stimulation should be more commonplace in communities. The ingenuity and creativeness of the private sector should be tapped to develop new ways of energizing the intellect as we age. The individuals afflicted in 2050 will be accustomed to computers, mobile devices and other technology. Our best minds should develop means of maximizing cognitive stimulation through technology use.
While nothing can reverse cognitive decline, even Alzheimer's progress can be slowed across the short term. We must look beyond bingo, singing, and television programming as the activities we offer diagnosed individuals within residential treatment facilities. Staff occupational, physical and activity therapists should be trained to deliver advanced, individually targeted sessions with a specific purpose and intent other than just passing time. Granted singing songs and bingo do have benefit, but we must bring more to the therapeutic table.
Trained counselors able to support family members through disease acceptance and treatment decisions, including institutionalization, will be vital. So, too, will be trained advisors capable of matching patient/family needs and finances to available resources, much like A Place for Mom is doing today. More free services, supported by extensive databases that capture up-to-date information at a precise and detailed level, will be needed.
Finances
Many today wrongly feel that the Affordable Care Act covers long-term care. It does not. Others think Medicaid will cover it. Yes, it will cover nursing home care but only after the family's entire assets meet a threshold of $113,000 or less. This level jeopardizes the quality of life for unaffected significant others. Worse still, most individuals don't think they will ever need long-term care and they fail to buy long-term care insurance or save money to cover anticipated costs.
We must educate people to the very real reality that one day the odds are that they will require long-term care. We must make long-term care insurance more affordable for more people. There is a limit to what increasingly high tax rates can cover — and the willingness of taxpayers to shoulder this burden along with the other contributors to the national debt. As a nation, we must bring together experts from the medical, financial, insurance, legal, and political worlds, among others, to develop viable solutions to pay the projected $1 trillion in expected annual costs. What's more we cannot wait until 2050 to recognize the problem. We must act today.
The coming tsunami is a complex problem that demands a multi-pronged response. As the preceding discussion indicates, virtually every facet of society has an important role to play. As a medical student with a strong background in biopharmaceutical research and the research into the genetics of brain disorders, such as schizophrenia, bipolar disorder and depression, I feel that I just might be one of those individuals with the aptitude and knowledgebase to treat patients with Alzheimer's and other dementias. Across high school I volunteered in many elder facilities and worked with patients with dementias. As recently as last semester, I found myself in a Richmond area facility working with a patient with dementia and evaluating her status. I enjoy the work and I enjoy elderly people. So, the personality and desire are resident within me, too. Perhaps one day in the not-too-distant future, I will be able to advance extant knowledge of Alzheimer's disease through a practice combining clinical work and research. Seeing that my maternal grandmother is currently within the memory unit of an assisted living facility with moderate dementia, I also possess the personal motivation to pursue this work.
View and read all of the 2014 Senior Care Innovation Scholarship finalists and congratulate them on making it closer to the scholarship prize.
Did Megan's essay inspire you? Don't forget to share your thoughts below.