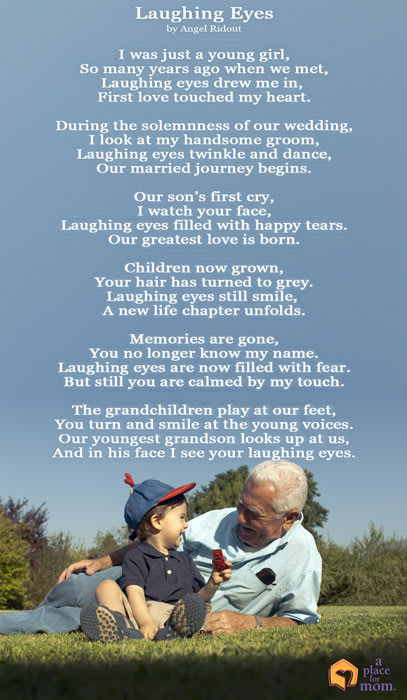 Laughing Eyes
by Angel Ridout
I was just a young girl,
So many years ago when we met,
Laughing eyes drew me in,
First love touched my heart.
During the solemnness of our wedding,
I look at my handsome groom,
Laughing eyes twinkle and dance,
Our married journey begins.
Our son's first cry,
I watch your face,
Laughing eyes filled with happy tears.
Our greatest love is born.
Children now grown,
Your hair has turned to grey.
Laughing eyes still smile,
A new life chapter unfolds.
Memories are gone,
You no longer know my name.
Laughing eyes are now filled with fear.
But still you are calmed by my touch.
The grandchildren play at our feet,
You turn and smile at the young voices.
Our youngest grandson looks up at us,
And in his face I see your laughing eyes.