What does having an animal companion mean to you? Share your story about your pet's perks and how your pet has increased you or a loved one's quality of life to win our sweepstakes.
Talk with a Senior Living Advisor
Our advisors help 300,000 families each year find the right senior care for their loved ones.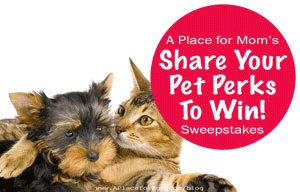 Research shows that owning a pet can stimulate the brain, increase your life span and improve your overall health, and for seniors, pets can offer much more.
In honor of National Pet Month, A Place for Mom wants to hear what the best part of owning a pet has been for you, and if an animal companion has improved your health — share your story to be entered for a chance to win a $100 gift card to Petco or PetSmart.
Enter your story about your pet's perks by May 31, 2014 at 11:59 p.m. PDT, to participate in the sweepstakes.
Although not everyone can win a prize, we will feature the best pet stories that we receive on a blog that will be published June 2, 2014.
Your pet stories can be shared below, or at our Facebook page under "Pet Sweepstakes." If you don't have a Facebook account, email your entry to content(at)aplaceformom.com.
//
Good luck to all! We look forward to hearing stories about your pets!