We all know that the universe is full of patterns. And nature definitely influences human behavior and the cycle of life. But what A Place for Mom recently discovered was that when natural disasters strike, senior housing searches spike. In fact, senior living and assisted living inquiries spiked anywhere from 11% to more than 90% following recent hurricanes.  
This week, A Place for Mom released new information on the Correlation Between Severe Weather and Senior Housing Inquiries. And with the 2013 hurricane season approaching, senior living needs are likely to increase in hurricane prone areas of the country. What can we do with this information? Seniors, caregivers and families need to be better prepared before and after major storms.
The data compiled from more than 1,700 seniors and families that contacted A Place for Mom following major storms showed the inquiries spiked during the two week period following these storms:
2012's Hurricane Sandy – 18% increase

2008's Hurricane Ike – 11% increase

2005's Hurricane Katrina – 91% increase
On Monday we were reminded of nature's brute forces, yet again, as a tornado hit central Oklahoma with winds exceeding 200 miles per hour. According to Reuters, 33,000 people were affected, including children, seniors and their caregivers. And, of course, doing everything we can to help the more vulnerable souls—children and seniors—is an important priority for every caregiver.
Natural Disasters: Always Too Close to Home
Unfortunately no one is ever completely ready for disasters. But preparing for hurricane season by taking extra precautionary steps to ensure safety, and by getting important documents in order—such as medical and respite paperwork and power of attorney—definitely helps.
Here is a chart you and your loved ones can use to make sure you're doing everything you can to prepare in case disaster strikes your area:
Talk with a Senior Living Advisor
Our advisors help 300,000 families each year find the right senior care for their loved ones.
Emergency Preparedness Plan Checklist.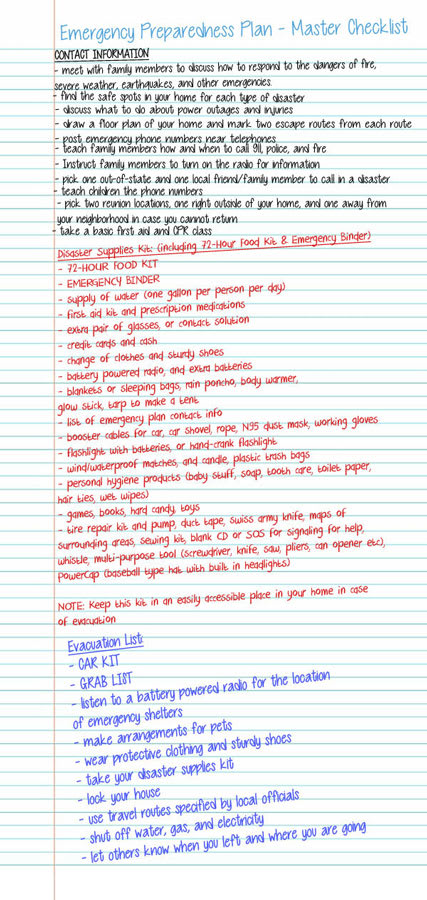 Senior Living Community Support
As stated in our press release, in addition to emergency response plans, many senior living and care communities practice disaster preparedness. They offer comfort through what is often a stressful situation by ensuring that seniors maintain access to food, water, shelter and necessary care. Support is provided in the event of power outages and evacuations, and services for storm cleanup, like shoveling snow or picking up fallen tree limbs are offered. Senior living and care communities can also provide seniors with a sense of community during an unknown event.
Learn more about the support senior living communities provided during Hurricane Sandy.
And this chart displays how emergency preparedness can be tailored to the individual family:
More Articles