More and more assisted living communities are offering classes in mindfulness meditation, a practice medically shown to reduce physical, emotional and mental distress, and promote good health.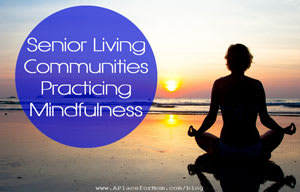 What if it really is possible to "be more Zen" about aging? There is an ample — and rapidly growing — body of evidence indicating the positive health outcomes resulting from yoga and meditation for seniors. Not only does yoga promote physical health and mobility, simple meditation practices like mindfulness are proven to have a wide range of physical and mental health benefits, from increased longevity to improvements in one's ability to manage stress and chronic pain. More assisted living communities are bringing these alternative health practices to their residents through their in-house wellness programs, resulting in improved quality of life, better emotional health, and even an increase in social interaction.
What is Mindfulness Practice?
While mindfulness draws from aspects of Buddhist philosophy and meditation practice, much of the mindfulness meditation that takes places today is based on the Mindfulness-Based Stress Reduction (MBSR) program, pioneered in 1979 by Dr. Jon Kabat-Zinn at the University of Massachusetts Medical Center. What that means is, mindfulness meditation is not a religious practice, but a way of fostering a particular outlook on existence. It can be practiced by anyone, of any spiritual tradition, or none at all.
Talk with a Senior Living Advisor
Our advisors help 300,000 families each year find the right senior care for their loved ones.
"Mindfulness is a way of learning to relate directly to whatever is happening in your life, a way of taking charge of your life, a way of doing something for yourself that no one else can do for you — consciously and systematically working with your own stress, pain, illness, and the challenges and demands of everyday life," according to the MBSR program at UMass Medical School. "Restoring within yourself a balanced sense of health and well-being requires increased awareness of all aspects of self, including body and mind, heart and soul."
The benefits — for seniors, for caregivers, and for everyone else — include decreases in physical pain and other symptoms, reduced stress, and increases in relaxation, energy, self-esteem and even cognitive functioning.
Practicing Mindfulness: The Benefits for Seniors
Seniors in particular have been the focus of many scientific studies on the benefits of mindfulness meditation and similar practices that encourage self-awareness and stress reduction. As early as 1989, researchers found that transcendental meditation (TM) and mindfulness were effective in improving a range of health measures in the elderly, including mental health, blood pressure and cognition. A Canadian study in 2005 further supports the beneficial effects of TM, showing that elderly people who practiced TM actually reduced their health care expenses over a period of five years, compared to a control group.
The physical effects of mindfulness meditation are just as astounding — and mindfulness has the added benefit of being low in cost and straightforward to teach, even to people with dementia. Here are just a few of the benefits for seniors:
Mindfulness in Assisted Living Communities
With all of that encouraging research in mind, it's no surprise that more and more assisted living communities are offering complementary practices like meditation and yoga to their senior residents.
"Our goal is to provide residents and their families with the resources and services that can best be of help and/or improve quality of life," says Barb Bossi, Sales Advisor for Leisure Care's MacKenzie Place community in Colorado Springs, CO. "We had a local trainer of Mindfulness that was offering the class and we happily agreed to offer them a meeting place and offered the class to our residents and their families." Massage therapy and acupuncture are also among the complementary health offerings at MacKenzie Place. They hope the success of programs like these will lead to additional opportunities to increase senior health and happiness.
It's not only residents who benefit, says Bossi.
"Often times the Mindfulness training is most effective for caregivers of dementia… as that road can be long, painful and draining."
If there's one takeaway from all this, it's that anyone can enjoy the positive effects of mindfulness training: seniors, caregivers, the chronically ill, people in emotional or physical pain. Many assisted living communities are beginning to approach senior health in a way that includes more holistic health practices like mindfulness, and this can only benefit our aging loved ones and our own selves.
Have you or a loved one tried mindfulness meditation or another type of meditation practice? What do you think of the latest research on the positive health benefits of meditation? Please share your stories in the comments below.
Related Articles: