A Place for Mom is proud to announce the commencement of their annual $1,000 scholarship for advancement in the field of gerontology. This is a general scholarship which will award the selected applicants with a financial donation. We have narrowed-down the finalists, which includes Katherine Kitchen.
Congratulations to Katherine Kitchen, Senior Care Innovation Scholarship Finalist! Read Katherine's essay below and vote for her if you think she deserves to be one of the 5 recipients of the $1,000 scholarship awards.
Katherine's Essay
Caring Together: Collaboration between Clergy and Psychologists
I was a little nervous the first time I met 93-year-old Mrs. Berkley. I remember clenching my palms together as I trailed behind the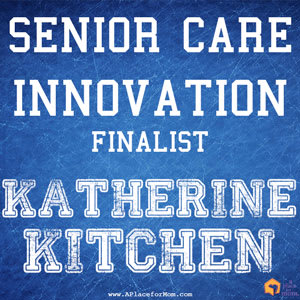 nurse who swiftly navigated through busy nursing home halls. My grandmother died after spending her last few days in a nursing home, and I vividly remembered visiting her there and observing other residents, some of whom seemed depressed and lonely. It was my first day of a high school-based work experience program. Upon discovering that Mrs. Berkley, who previously read on a daily basis, lost the majority of her eyesight after suffering a stroke, I offered to read to her. Over time our friendship deepened, and I continued visiting with and reading to Mrs. Berkley after my work experience program ended.
Talk with a Senior Living Advisor
Our advisors help 300,000 families each year find the right senior care for their loved ones.
My relationship with Mrs. Berkley sparked my desire to study psychology and become a mental health care professional specializing in geriatric mental health care. Although Mrs. Berkley has since died, the memories of our friendship remain, as does my desire to help improve the mental health and well-being of our aging population. I am particularly interested in helping improve the lives of older adults residing in long term-care facilities, who have higher rates of major depression and subsyndromal depressive symptoms than those residing in the general community (e.g., Blazer, 2003; Unutzer, Katon, Sullivan, & Miranda, 1999).
Improving mental health care for rural, older adults is crucial because this population is in double jeopardy—they are under served because of their age and where they reside. With a severe shortage of mental health professionals trained in geriatrics in the current U.S. workforce, our current health care system is ill-equipped to face the impending crisis in geriatric mental health care. The efficacious pharmacological and psychological/psychosocial treatments that are available fail to reach many older adults in need (Olfson et al., 2003). Additionally, there are many well-documented barriers to receiving mental health services in rural communities, including mental health stigma, geographic isolation, and severe shortages of mental health care practitioners. It is critical that we address treatment access challenges for rural, older adults, because the proportion of older adults in rural communities is rapidly growing (Ham, Goins, & Brown, 2003), which can be expected to result in a concomitant increase in the need for mental health services. We must seize the opportunity to develop, implement, and disseminate innovative ways of reaching under-served older adults both in the community and in long-term care facilities before the rural mental health care system accumulates additional stress.
Clergy members have the potential to help improve mental health treatment access and decrease the service need gap in rural communities. For over three decades, the role of clergy members as front-line mental health workers has been recognized (Weaver, 1995). The clergy are represented over a wide geographic region and have the unique chance to notice changes in behavior among community members, especially among older adults with whom they have frequent contact (Pickard & Guo, 2008). Older adults, in particular, prefer to receive help for mental health issues from clergy members more frequently than from mental health practitioners (Pickard & Tang, 2009).
Alarmingly, few studies have aimed to understand clergy members' role in counseling and referring older adults with mental health problems. Even less is known about whether rural clergy are adequately prepared to recognize and respond to geriatric depression, which is the most prevalent mental health problem among older adults (U.S. Department of Health & Human Services, 1999). In fact, to my knowledge, only one small study has been conducted to examine knowledge and perceptions of geriatric depression among the clergy (i.e., Stansbury, 2011).
The research project which I am currently conducting for my doctoral dissertation will examine predictors of referral intentions to mental health professionals based on multiple levels of personal and environmental influence among clergy in two predominately rural states. This survey will be sent to a large group of clergy members, and will also include questions related to clergy's training and informational needs related to geriatric health and mental health, as well as barriers to collaborating with mental health professionals in the community. It is expected that improved understanding of individual and environmental factors influencing referral intentions will lead to the development of intervention strategies incorporating clergy members to improve mental health treatment access for rural, older adults.
Developing strategies to incorporate clergy into treatment access interventions will be a significant contribution to senior care, because clergy who are trained to recognize depression among older adults have the potential to serve as valuable mental health access points for both community-dwelling older adults and older adults residing in long-term care facilities. If older adults with depression are adequately identified and referred to health care providers, it can be expected that the financial burden associated with untreated depression will be reduced in rural communities and long-term care facilities. Additionally, it is anticipated that clergy members trained in evidenced-based behavioral therapies could help reduce the mental health provider burden by supplementing existing rural mental health services. Finally, it is expected that what is learned from this project will contribute to a broader understanding of how clergy members and mental health providers can collaborate more effectively to improve the mental health of rural, older adults.
View otherSenior Care Innovation Scholarship Finalists. Don't hesitate to congratulate and vote for Katherine in the comment form below if you think her essay is one of the most compelling of all the finalists. Keep in mind we are awarding 5 of the finalists with $1,000 which they can use toward their studies.