To honor Grandparents Day, we held a sweepstakes with Grandbox, where A Place for Mom readers could enter to win a care package for their grandparents.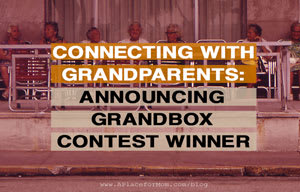 Now, we're announcing the contest winner and speaking with Grandbox co-founder, Andy Papier, about why it's important to stay connected with your grandparents and senior loved ones. Learn more.
Staying Connected with Senior Loved Ones
As families age and grow, it can be difficult for members to stay in touch as often as they'd like. But, it's important to stay connected and maintain the bond between a grandparent and grandchild.
Talk with a Senior Living Advisor
Our advisors help 300,000 families each year find the right senior care for their loved ones.
Eunice B. understands the importance of that connection, and wrote to us about the "unconditional love" her grandparents display, which is why she was selected as the Grandbox Contest winner.
Grandbox also understands the importance of that relationship, which is why they work to provide care packages for senior loved ones.
We had the opportunity to speak with Andy Papier, co-founder of Grandbox, about how he was inspired to help create these care packages and where he plans to go next.
A Place for Mom (APFM): Why is it important to stay connected with your grandparents and how can Grandbox help?
Andy Papier (AP): Connecting with grandparents or your older loved ones in your life, is like having a time machine to the past and family members and others you never knew.
Grandparents are a wealth of knowledge and experience and sometimes more willing to tell you things others won't. They'll tell you stories about your past, give you an overall sense of where you've come from, and an understanding of your family or history that no one else can. For the grandparents, connecting gives them a sense of belonging. Being a part of the brood. Kind of like the wise "man" of a village.
Sending a GrandBox shows your grandparents and older loved ones that you are thinking of them, that they are an important part of your life, that they're not forgotten if you've moved away or haven't called or visited as much as you've liked. It helps open up a dialogue. They'll probably call you and tell you they got the package, and what some of the items remind them of. All of our boxes are curated with a touch of nostalgia and because they can be personalized with photos, notes and letters, it also allows them to keep up with what's going on in the sender's life and feel more connected. In the digital era, nothing beats actually getting something in mail. It's almost like sending them a Christmas or birthday present for no reason. It's an unexpected gesture of gratitude.
APFM: How did Grandbox get started and what's included in a care package?
AP: Joe and I both have older folks in our family or grew up with older loved ones who we didn't always see or talk to as much as we'd like, but who were always on our minds. I personally grew up as the youngest in my family, so over the years there were a lot of visits to empty nests, condos, retirement communities and nursing homes. We both grew up with family members and older friends who lived far away or as we moved when we grew older, weren't able to visit as much as we used to. We wanted a unique way to connect with them. Phone calls are wonderful, but giving and sending something fun and personal is always more memorable, especially nowadays when you hardly get anything in the mail. Older folks have a connection to receiving mail that's been lost the past decade or so.
We also see GrandBox as resource to help people who don't always know what to send their grandparents or aunts or uncles. A lot of times they either have everything or don't have a lot of room. We're very conscience of that, so we curate the care package with that in mind. We try to send items that are consumable, recyclable or usable. Not something that will sit on a shelf collecting dust. We definitely don't want to send them a box of kitsch items or knick knacks that take up space or end up in the garbage. At the same time, we aren't just sending trial size samples or candy.
GrandBox is what is called a discovery box, which means you don't know exactly what you are going to get each month. We sometimes curate the box around a theme or a holiday or season. But normally, there will be something healthy to eat or drink; or fun gifts like games, books or a nice pen; and every box contains personal items the sender adds — like photos and a personalized letter. For instance, this past July we did a "stay cool" theme with lemonade, a hand fan, an ice mask and cooling wipes. That one was a big hit! We'll also add some nostalgic details of the products if appropriate and some fun trivia questions to start conversations or rekindle a memory.
So far the response has been overwhelmingly positive both from reviewers and recipients. We launched in March and have grown each month, with people ordering from just about everywhere in the country. We're building partnerships with various organizations and it's been exciting. The best part is the feedback we've gotten from the people who sent it, telling us their parents cried, or their grandparents called immediately, or their friend in a nursing home can't start talking about it. It's been a wonderful experience knowing we're helping people and families stay connected. We have a lot of great ideas on the horizon too that we think people will love. Not just what will be in the box either, but ways to help connect others even more.
APFM: How do you sign up with Grandbox?
AP: You can sign up here: http://www.mygrandbox.com/send-grandbox/
APFM: Do you have any tips for us about using Grandbox to connect with our senior loved ones?
AP: Well, each box is different and we try to curate it with products that will tickle their nostalgia. We include pictures and a letter that will spur conversation, as well as trivia and themed questions based around the box. Like I mentioned, we'll add details about some of the products in the care package that beckons back to their childhood or a memory that is precious.
Getting a box always spurs a phone call from the whoever gets it. Most people are so surprised, they'll talk about it for days. One of our customers told us about how his mom has emailed him every day since he sent her a GrandBox. You see, he wasn't the type of person to send her a gift, he wouldn't have a clue, so we helped him out in that regard. You know, I think he really, really surprised her. It's basically like sending or opening a christmas gift or a birthday present. Just receiving it starts a conversation, creates emotions, and puts a smile on people's faces.
Have you sent your grandparents a care package? How else do you stay connected with your senior loved ones? Share your tips in the comments below.
Related Articles: