By: The Experts at The Mutual Fund Store
If you find yourself attempting to meet financial obligations for three generations — your children, your parents and you — there might not be enough money to go around.  Since something has to give, you need to prioritize. Having a plan in place will help you to make rational decisions about retirement savings that aren't driven by emotional responses.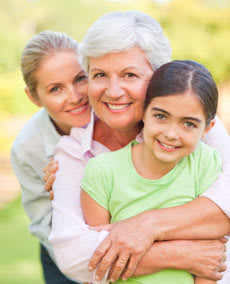 Imagine these circumstances: you have a parent who's in poor health and needs to move in with you and/or requires help that takes a lot of your time, plus you have children at home with an eye toward college. Perhaps you have already found yourself in this situation. Your gut tells you that you should leave your job to care for your parent for six months or a year, but you realize the financial implications of that course would be far-reaching. What should you do? It is definitely a challenge being part of the sandwich generation.
Each situation is different, and every person will feel differently about various obligations. There isn't a one-size-fits-all solution, but everyone needs a plan. We recommend you start with these important considerations:
Prioritizing Elder Care, Retirement Savings and College Savings
Funding your retirement has to be a priority. It may seem like the least of your concerns right now, but that's a short-sighted view. If you end up with less than ample retirement savings, your children could face the same burden you carry today: supporting and caring for an aging parent. Following that logic, saving for retirement should be priority one and saving to fund your children's college education should be priority three — after all, there are student loans and scholarships, but no one offers retirement loans and scholarships. If your children have to work during high school to save money for college, that's okay. If they have to take out student loans, that's also okay. In the long run, they'll likely be far better off if you don't have to rely on them during your retirement years.
Talk with a Senior Living Advisor
Our advisors help 300,000 families each year find the right senior care for their loved ones.
That covers priorities one and three; priority two is helping your parents. With a parent in poor health, begin by investigating the care available through state- and federally-sponsored programs. If your parent runs out of money but requires long-term care, s/he may be eligible for some form of government aid. Longtermcare.gov is a good place to start; you should also explore whether state-level assistance is available to your parent.
In the ideal situation, you wouldn't have to prioritize, because you'd have enough money to max out your 401k contribution, pay for your parent's monthly care and make a contribution to a 529 college savings plan account. Reality is rarely ideal however, so instead you may need to reduce your 401k contributions, eliminate your 529 contributions altogether and pay for part of your parent's care.
Planning For Your Future: Decide What You Can Live With
Though you may feel obligated to care for your parent by quitting your job and becoming a full-time caregiver, there is an alternative worth considering. You could continue to work (and still contribute to a 401k plan) and hire a caregiver instead. Even if you use most—or all—of your net income to pay for your parent's care, you're still coming out ahead in the long run because you're funding your retirement savings.
When faced with immediate financial needs, it can be hard to place much weight on putting money away for your retirement, but don't let yourself fall into that trap.  Suppose you're making a $500 contribution to your 401k plan each month.  If you take a year away from work — and subsequently from your retirement savings — the money you'll be withholding from your nest egg for just that one year could end up costing you more than $40,000 in savings at retirement time.
Additionally, if you opt to pay for care, your parent will be in the hands of a professional, either in a facility or in your home. There's a certain measure of peace of mind that comes with knowing your loved one is being well cared for. And lastly, if you don't quit your job, you won't need to deal with a stressful job search—and possibly a cut in pay and/or lower-level role—when you try to return to the workforce.
All that being said, some people simply can't live with that option. So if you feel you must be the primary caregiver, try exploring work-from-home employment. You may be qualified to consult, freelance or sell something profitably on a part-time basis while caring for your parent. You'd be forfeiting the potential company match and higher contribution limits associated with an employer-sponsored retirement plan, but working from home could allow you to still save money for retirement.
When factoring eligibility for college financial aid into your decision on whether or not to leave your job, remember that your assets and income make up just a small portion of the Federal Student Aid formula. Your child's assets and income comprise a much greater portion. For that reason, you may benefit from keeping 529 accounts in your name. Beyond that, your election to remain at work or quit wouldn't have a drastic impact on your child's loan eligibility. Private grants and scholarships, however, aren't obliged to follow federal aid rules, so the presence or lack of income or savings may affect eligibility.
There are many considerations when faced with meeting financial obligations for three generations. Immediate needs can make it difficult to prioritize objectively, but don't sacrifice your own long-term financial needs. With advance planning, you can stay on course toward a more secure future. If you prepare, even members of the sandwich generation can more easily adjust to whatever life brings.
Providing unbiased, fee-based investment advice and asset management with a focus on doing what's right for its more than 34,000 clients, The Mutual Fund Store is a nationwide system of registered investment advisors, which include affiliated companies and independently owned and operated franchises. Individual Stores are SEC or state registered investment advisors. Advisors actively manage personalized investment plans, extensively researching and expertly monitoring the mutual funds selected for clients. Each Store can offer investment advisory services to prospective and existing clients in the state where the Store is located, while a number of Stores may also offer advisory services in nearby or other states. The advisor may not transact business where it is not appropriately registered, excluded or exempted from registration.