A Place for Mom launched its 2nd annual caregiver getaway to Joan Lunden's Camp Reveille in Naples, Maine, to honor more than 65 million caregivers in the U.S. After thoughtful review of all the well-deserving essay entries, we selected Sylvia Davis as this year's winner!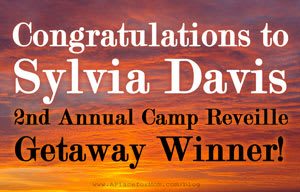 Joan Lunden's Camp Reveille was created to provide women the opportunity to "Rest and Recharge." Attendees of camp get the opportunity to "try new things," "discover new inspiration" and "escape from hectic life" over four days and three nights with other women, many of whom are caregivers.
Sylvia Davis of Gretna, Nebraska, is a caregiver for her husband Robert and a daycare provider for children. She felt guilty to think about doing anything for herself, as most caregivers do, even though her children encouraged it. She also questioned if it was appropriate for her to have fun without her husband and acknowledges that "guilt" is an area she hopes to learn to cope with at camp.
For Better or for Worse, In Sickness and In Health
Talk with a Senior Living Advisor
Our advisors help 300,000 families each year find the right senior care for their loved ones.
In 2008, Sylvia's husband suffered from a severe left brain stroke. Once a smart, technically savvy, fix-it-all "Superman;" her husband Robert suddenly could not do things on his own.
"Somewhere I read, and found to be true, that when a spouse suffers a stroke, it is the equivalent to one's spouse dying and receiving a special needs child all at once."
Sylvia tends to her husband's daily routines such as grooming, dressing, food preparation, medicine administration and the care of their three teenage children (at the time). Since Robert had lost use of his right hand, Sylvia also takes care of all other household duties: "With no use of his right hand, I often remind him that our three hands can do anything!"
A New "Normal"
There were certainly challenges for Sylvia's family in adjusting to their new way of life. No longer did she and Robert have their monthly date night at a restaurant, their vacations were out, remodeling their home was put on hold and they no longer were accepting invitations from friends to various events.
"Our 30th [anniversary] will come up next month and it will be a sweet renewal of our vows at our Parish, and a simple breakfast afterwards. Simple. That is our new normal. That is ok with me! I have learned to be appreciative to still have him with me."
Sylvia continues, "I appreciate being able to earn a modest income as a licensed child care provider in our walkout basement which my Superman built for me. He supported my dream vocation, building me a second kitchen and bathroom and happy playroom which tens of hundreds of children have joyful memories of. Now I support him for all he has done for me! He taught me how to drive when I was 19. I was so fearful then, now with him forever riding shotgun I am a confident driver even in the most brutal Nebraska weather! He has taught me to use tools around our home and I feel like Superwoman whenever I do manage to fix something!"
Delivering the Good News to Sylvia
The best part of selecting a winner is delivering the news to that deserving individual, which Joan delivered herself! The following is Sylvia's reaction and response:
A Place for Mom (APFM): What was it like receiving the good news? 
Sylvia Davis: I am so appreciative to have won the Caregiver Getaway Contest! I was preparing dinner when the telephone rang and almost didn't answer, thinking it was a telemarketer. For some reason I did and was so thrilled when Tracey said she was calling on behalf of A Place For Mom. When she said someone wanted to say hello, and I heard Joan Lunden's cheerful voice I was overjoyed! I have been a fan of Joan's for almost 30 years, since the early days of Good Morning America!
I could not believe this beautiful woman, who interviewed presidents, world leaders and royalty was genuinely interested in my and my husband's journey with stroke! When I asked how she was feeling, I was in awe that she completed her 6th treatment that morning, and still took the time to talk with me! I have never been to Maine, and I am so looking forward to attending Camp Reveille. I want to try new activities I have never done before, the rock climbing wall is first on my list! I hope to go on a boat ride on Long Lake. I also plan to make a special piece of jewelry as a precious momento of the weekend. Thank you so much! I can't wait!
APFM: Why do you think it's important for caregivers to rest and recharge?
Sylvia: Everybody needs a break; a change of scenery, something to look forward to. Caregivers especially deserve an opportunity to relax and focus on themselves from time to time. Too often we are thrust into this role not by choice. Family caregivers must put the needs of the person they are caring for above their own each and every day. The monotony of day to day caregiving is exhausting. A simple cup of coffee at a friend's home, a walk around the block while praying, a car drive alone with my favorite music (this summer it has been Laura Nyro and Todd Rundgren) playing is sometimes all it takes for me to come home happy and ready to care for my husband.
APFM: Who will you take to Camp Reveille and why did you select this friend/family member?
Sylvia: I am thrilled to have my friend Joyce accompany me to Camp Reveille! Since my husband's stroke in 2008, she and her husband Doug have been there for us. Early on she allowed me to cry and vent in confidence without judgment. She brought us delicious meals during challenging times. She included me in social activities with her friends. She accompanied me to doctor's appointments. She always asks how I am! She gets it!!! I have always wanted to repay her and Camp Reveille is allowing me to do so!
APFM: Imagine you are around the campfire one night at Camp Reveille sharing stories with all the other caregivers. What one piece of advice would you share with them that gets you through each day as a caregiver?
Sylvia: It's taken me a long time to not worry about the future and just make each day the best I can. I used to cry alone; in sitting on my closet floor worrying about finances, what if the car broke down, what if my husband had another seizure, etc. It's beyond my control but I know the Good Lord will be with me through it all. He has revealed His presence time and time again. My favorite advice was years ago from a priest. He said just imagine God has big broad shoulders and strong loving arms. You are His child, but no parent likes a whiny baby! So you are allowed to whine for five minutes a day, then relax and imagine resting in His arms. Then drink the wine!
Has Sylvia Davis' story inspired you? What words of advice do you as a caregiver have for other caregivers in dealing with the daily challenges? Share your comments below and stay tuned on the announcement for next year's contest! 
Related Articles: