Get a jump on the flu this year by staying informed — and getting vaccinated. New high-dose flu shots have been proven effective in preventing serious illness in seniors.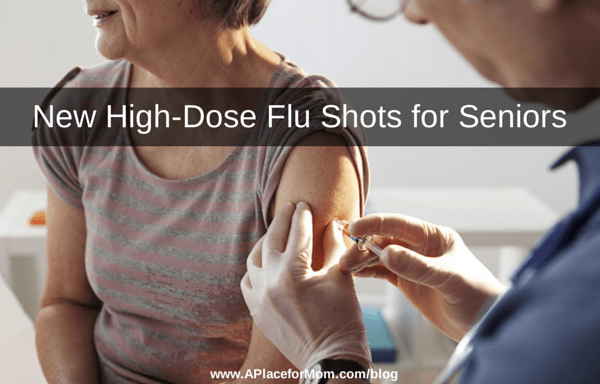 It's that time of year again: fallen leaves, a chill in the air, feasting with family… and then there are the less welcome signs of the season: coughing, fevers, congestion and headaches. Those are the signs of flu season we all know and (don't) love. Seniors and their families need to be especially aware of how to recognize, treat, and most of all, prevent the flu. We've rounded up the basic facts about influenza and this year's vaccines so you can dive into the holiday season armed with everything you need to know.
What Seniors Need to Know About the Flu
Influenza can be a serious illness at any age, but adults over the age of 65 need to be particularly vigilant in their flu prevention. The human immune system gets weaker as we age, leaving seniors not only more susceptible to catching the flu, but more vulnerable to potentially serious health complications, too. Pneumonia, bronchitis, asthma attacks — all of these are possible flu-related illnesses.
"It's estimated that 90% of seasonal flu-related deaths and between 50-60% of seasonal flu-related hospitalizations in the United States occur in people 65 years and older," according to the Centers for Disease Control and Prevention. In the face of these rather alarming statistics, it's more important than ever to make sure seniors and families get vaccinated against the seasonal flu once each year.
The Latest Report on Flu Season
There's good news, too, from the front lines of the flu battle. The CDC recently released a report on the 2013-2014 flu season and the results show some progress in terms of making sure people are vaccinated: "Almost half of the U.S. population age 6 months and older was vaccinated during the 2013-2014 season," said the report. "Coverage was highest in children younger than 5 years old and adults age 65 years and older."
Vaccination, says the CDC, is still the best way to protect against the flu and prevent its spread. Unfortunately, we still have a ways to go with vaccination coverage when it comes to health care workers. In the 2013-2014 season, about 75% of health care personnel received the flu vaccine overall, but coverage for those working in long-term care settings was much lower: only 63%. That percentage really needs to go up, says the CDC, because seniors are more vulnerable to the flu and flu-related complications. In addition, "Flu vaccine effectiveness is generally lowest in the elderly, making vaccination of close contacts even more critical."
Tips for Staying Healthy During Flu Season
The number one advice the CDC gives for staying healthy is, of course, to get vaccinated at the beginning of flu season, preferably by October.
Studies show that the spread of flu is mitigated and the risk of death to elderly people lowered when more people are vaccinated. Not only that, there is a relatively new high-dose flu vaccine called Fluzone designed for adults 65 and older. This is a very positive development, since vaccines may sometimes be less effective in seniors. "Older adults have the option to get a regular flu vaccine or a high dose vaccine designed to give them a better immune response," says the CDC.
"A recent study showed that high-dose vaccine was 24.2% more effective in preventing flu in adults 65 years of age and older relative to a standard-dose. Either a regular flu shot or the high dose vaccine are acceptable options for people 65 years and older this season. The important part is to get vaccinated because it's still the best protection currently available against the flu." Other tips for keeping your health up this flu season:
Avoid close contact with sick people.

Wash your hands often with soap and water, or use alcohol-based hand sanitizer.

Clean surfaces that are frequently touched or used, such as desks, counters, phones and computer keyboards.

Practice good health habits to support your immune system. The 

UC

 Davis Medical Center advises, "Get plenty of sleep, be physically active, manage your stress, drink plenty of fluids and eat nutritious food."
Families with seniors should make extra sure to follow these guidelines, in order to minimize the risk of serious illness — and, of course remember to get vaccinated.
After all, with a healthy family, everyone can be at their best when the hubbub of the holidays gets underway.
Have you gotten a flu shot this year? Do you have experience with the high-dose flu vaccine? Share your story in the comments below.
Related Articles: